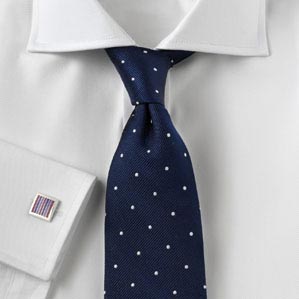 If you live in London or intend visiting, Jermyn Street just off Piccadilly is the place to go if you are looking for some new shirts. It is well known as a street where the shops are almost exclusively aimed at the gentleman's market and is famous for its resident shirt makers.
Much as Savile Row is associated with fine suits, Jermyn Street is where a gentleman goes to purchase his shirts. Now, these shirt makers vary in quality and price so here I have assembled a quick guide to the main players, who all have online stores in case you can't get to Jermyn Street:
Turnbull & Asser: Top of it all. Most expensive of them all and in my opinion the best off the rack shirts money can buy. Collectibles, as eBay prices show. Worn by aristocrats and show-biz people; by people who don't care what others think or who DO.  Turnbull & Asser are famous for being both Winston Churchill's and Prince Charles' shirt maker of choice, during the Second World War they even made custom overalls for Mr Churchill to wear on his visits to the front line. Why not visit the Turnbull & Asser website and see what we mean.
Harvie & Hudson: A true 1960's feeling, with neon-lit shops and prescription-glasses salesmen. Worn by older gentlemen who would not be seen dead in "trendy" clothing. Thus they offer cream shirts, pleated denim trousers, washed cotton sports jackets and the like. Ahhh and let's not forget terry towelling robes.  Think retro in an inherited from your uncle kind of way. The Harvie and Hudson website.
Hilditch & Key: Understated, Italianesque elegance. No fancy kaleidoscope patterns here. Very Continental European style.  If you are looking for the traditional English cut look elsewhere. Why not peruse the Hilditch & Key website?
T.M. Lewin: We are entering middle-class territory here, not that that's a bad thing! No, Lewin's  good quality shirts can be picked up for a very reasonable price in one of their ongoing sales, I guess you could consider them the DFS of the shirt game!  You can also shop from the T.M.Lewin Website
Charles Tyrwhitt: Very similar to T.M Lewin except, in my opinion, slightly better quality and a little bit more expensive too! Again, their shirts and accessories can also bought online from the Charles Tyrwhitt
website.