Always looking to try new things the opportunity to test the 2014 Kia Soul was eagerly accepted. The model delivered was the Connect Plus 1.6 CRDi 6 speed manual. First impressions were good, it's subjective but the front end looks mean and moody, the body is boxy but sleek lines certainly give it a certain amount of style. It makes a statement of intent and looks like it could be good fun. The 'Acid Green' paintwork may not to be everyone's tastes, personally I liked it, but other options are available.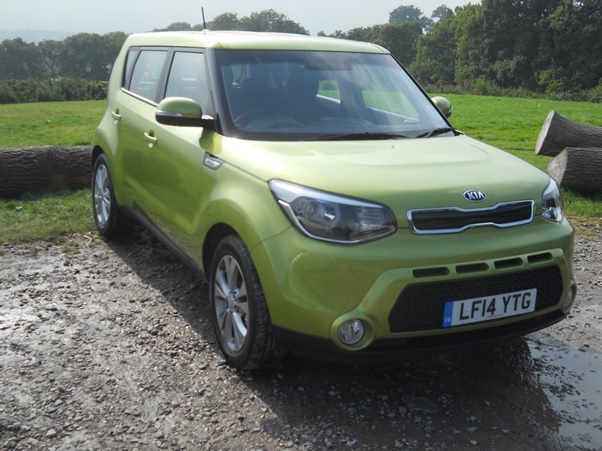 A long test run to Devon and back was as enjoyable as it was smooth and fast, the twisty, steep Devon hills presented no problem. The Kia seemed to eat up the miles with ease. Sure, it's a diesel so there's a bit of engine noise but I didn't feel it was excessive. I certainly couldn't hear it anyway over the DAB digital radio which meant I could listen to my favourite London radio stations all the way, whilst switching to FM/AM if needed with options to plug in your own music via USB/AUX ports. There are almost too many gadgets and controls around the steering column and dash' but this merely means the car takes a little bit longer than I had to get used to and should be worth it over the longer term.
The 8" Touch screen dashboard display is clear, very handy for the built in satnav and also the reversing camera complete with traffic light colour coded grid to show just how close you can get to the car behind when parking.
Even around town the Kia didn't disappoint. A morning commute meant plenty of gear changes and nipping through traffic but the Kia's agility despite its size and weight made it a joy to play with the rush hour traffic tests thrown at it.
The interior is roomy enough for 5 to travel in comfort. The boot space is still cavernous. I tried to fill it with a fully stuffed holdall, a sport kit holdall, backpack and a set of golf clubs. I could have got another full set of bags in, were it not for the fact I ran out of bags.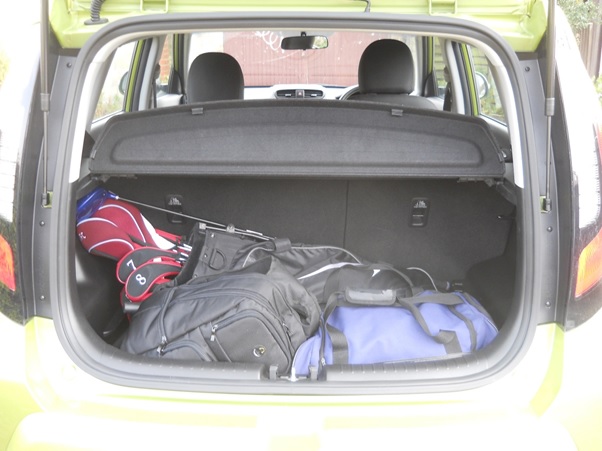 Overall I enjoyed my time with the Kia. The drive was smooth enough, with plenty of power available and it handled well. The well-publicised Kia warranty with a price tag of £17,500 for this particular Soul makes it an option worth considering.