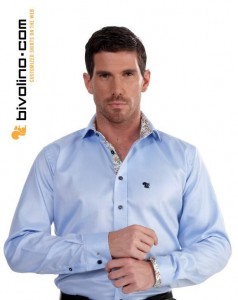 Over the past couple of years several online custom shirt sites have popped up offering Savile Row style custom shirts at high street prices. The idea excites someone like me that has always been not quite one size or another thereby making off the rack shirts either too big in places or too small in others, the question is of course are they any good?
I have now tried 3 or 4 of these online sites over the last year, all of which I've had various problems with so much so I was starting to think maybe I was asking too much from a custom shirt priced under £100 well it turns out I was right to expect more!
Having been a huge hit in Europe, Bivolino.com have now decided to launch in the UK bringing their custom shirt service to us Brits. What makes the Bivolino online design service so brilliant is their patented biometric sizing and fit system. By keying in your measurements and selecting from Comfort, Regular or Slim Fit Bivolino work their magic and expertise to produce a shirt which fits perfectly to your size.
Now, I was a little concerned by the lack of measurements needed to order my shirt; on all the other sites I've used they require quite literally every part of your torso to be measured which, unless you have someone on hand to help, can be quite difficult to be honest  so while Bivolino's system sounded fantastic I was curious as to how well it would work.  After I entered my style and cloth choices, my neck size, age and height I let the site do it's biometric magic and well, crossed my fingers it would turn out okay.
It turns out I had no need to worry, the shirt arrived 18 days after I ordered it (they promise a turnaround of 21 days) and the fit is fantastic, not too tight, not too loose and I'm very impressed with the quality; in fact I wore the shirt yesterday and I've lost count of the number of compliments I received so in my mind it's a winner.
So what if I wasn't happy?   Well, the shirt comes with a pre-paid return label to a UK address and a check list so you can list any problems you may have with the fit e.g. whether you would like the sleeves slightly shorter or the chest taken in, this is very reassuring. In short I'm very happy with my shirt and as soon as pay day arrives I plan to order another.
For more info on Bivolino head over to Bivolino.com where custom shirts start from a rather reasonable £49.00