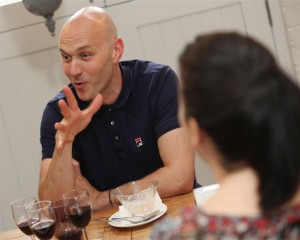 Chef and food writer Simon Rimmer is the new face of Beefeater Grill's National Steak Week.  Simon is the owner of Greens, an award-winning vegetarian restaurant in Manchester. He also is the in-house chef on BBC2's 'Something for the Weekend'.
To celebrate National Steak week ,Beefeater Grill and Simon have come up with the Steak Lovers menu for £24.99 you will be treated to a four course meal with optional wines selected to match each course:
Beef Consomme (with slices of seeded bread)
Sirloin Steak and Pepper skewers (with a chilli dip sauce)
Steak Platter – A collection of Rump, Fillet, rib-eye , served with chips, onion rings, grilled tomato, mushroom and a peppercorn sauce.
Fire and Ice cream – Ice Cream served with a sweet chilli sauce
and I must say I was very impressed when I tried it. Afterwards I had the chance to ask Simon  a few questions:
The steak lovers menu excites the meat lover within me, can you tell me what excites you about the menu in particular?
I think the strength of the menu is that often people aren't quite sure what the various cuts of meats do in terms of flavour and all they go on is price point, and tend to think "well the fillet's really expensive so I'll have the Rump" but if you get to taste the Rump, Sirloin, Rib-eye and Fillet you get to see there are big differences in texture and flavour.  With this menu the platter course includes all those cuts which is something you don't often get, it's real blokes food.
Is the beverage you select important with a good steak?
Food and wine matching works on one of two levels, as either a complement or a contrast.  So you complement it for example if you have a nice smokey piece of fillet steak  then you want something soft and smooth like the Malbac we had or you have something that contrasts it, something peppery like a Pinot Noir.  In very basic terms if you have something sweet and something sour it aggravates our taste buds, it makes us salivate which then brings out more flavour in the steak.
What or who first inspired you to think about cooking as a career?
I've always been involved with cooking from when I was a kid, both my mum and dad cooked so its always something thats been around. When I was a student I worked in bars and restaurants always on the front rather than in the kitchen and then just decided to take the plunge and buy a restaurant.  Eventually  through lack of money and not being able to employ anyone I ended up in the kitchen which turns out was the best thing that ever happened to me, I absolutely love it, its a great career; you never stop learning.
Do you have a favorite dish you like to cook for yourself?
Fish – I cook loads and loads of fish, I do a monkfish dish which is monk fish, potatoes , tomatoes, artichokes, butter lemon, parsley and garlic, you season the fish in a little bit of flour then fry it off in a bit of butter to get some flavour, plenty of lemon juice, chuck in all the other ingredients, a nice big load of butter and put it through the oven for about 15-20mins so the butter starts to kind of crisp up on top of all the ingredients, it's a big one pot dish, throw it on the plate with a bit of crusty bread and it's absolutely delicious.
You aren't vegetarian or a trained chef – how did you end up opening a veggie restaurant?
We were looking for something that was cheap and cheerfull and I lived just round the corner from where Greens is and it was originally a very down beat hippie veggie cafe. The original plan was we would buy it, make a bit of money then after two years sell it then buy a real resturant but we got the bug and were doing something people liked and we have now had it for 20 years.
when we started it was 28 covers now its 84 covers, we bought more land to extend the building into the shop next door, it's been a real labour of love. So by default we started off with a veggie restaurant but its turned out to be a great thing to do.
What veggie dish would you serve an avid meat eater?
I'd get some puff pastry and fill it with risotto rice, wild mushrooms, chilli, goats cheese, roll it up then bake it for 20mins then serve with a good creamy mashed potato with a red wine sauce and roasted beetroot.
What sort of environment is your kitchen?
When I first started employing people a friend of mine who had run a business for years said that as an employer you have to give people the opportunity to succeed not the opportunity to fail, letting them fail is far easier than giving them the opportunity to succeed and I think that being in an environment of terror and fear isn't the best way as a human being to work and so I'm not saying people don't get told off and in trouble when they do things wrong but fundamentally we work in a calm controlled environment.
Its very calm, I'm not a big shouter full stop really, I always say to my lads in the kitchen that I think I'm more the disappointed father rather than angry dad. It's more like " are you going to send that out?, if you think that's ok I'm just a bit disappointed really".
What's your favourite / most rewarding part of our job?
My favouite part of the job is at the end of a really busy service, you always hit a point on a busy service where we are just about out of control here , we aren't going to be able to cope with the volume of trade that's coming through the door we are really right up against it and then you come through it, at the end of the night you sit down with a cold beer and you recount the tales of war of what's gone on during the night and take the piss out of each other for whats gone right and what's gone wrong, there is no better feeling than the beer at the end of the night, it's well earned.
Gordon Ramsay has been criticized in the press for his pub chain using so called 'boil in the bag' cooking, which turns out is a french technique called  Sous-vide, do you use it or would you ever use it?
What he was criticized for was having a central production kitchen and people were saying he was producing ready meals, and it's complete nonsense.  A lot of chains will have a central production kitchen to maintain standards, say for example that monk fish dish we talked about about earlier, it might well be that that is produced in batches and then sealed into individual portions to make the control of quality easier and I think there's absolutely nothing wrong with that.
I have two restaurants which are both very different so it wouldn't work for us but if I had six or seven sites I think there's nothing wrong with having a central production kitchen, especially if it maintains quality then so be it.
Can ready meals ever be good food?
Yeah they can absolutely, I think that in the same way any form of Chinese takeaway can be both good and bad , you just have to be selective in them, Ive had plenty of decent ready meals. The ones that tend to work well are things like Lasagne ,curries and stews, anything more ambitious than that
then they can be a bit crappy really, you do get what you pay for, if you pay 99p for a ready meal in a petrol station then that's what your gonna get.
Simon Rimmer is working with Beefeater Grill to launch their Steak Lover's Menu for National Steak Week [18th – 24th October]. Visit www.nationalsteakweek.co.uk for more information