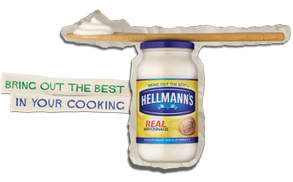 With an ever increasing urge to cook more healthily without compromising on taste, the need to create tasty dishes  that don't add to the ever increasing waistline, I'm often searching for inspired new recipes that don't take hours to prepare. Many of us use mayonnaise as a condiment to accompany a main meal, but Hellmann's Mayonnaise is brimming with some of the best quality ingredients which make it a deliciously versatile ingredient to cook with too.
At the heart of Hellmann's Mayonnaise are three simple ingredients – free range eggs, vinegar and rapeseed oil, which naturally contains Omega 3 and mono-and polyunsaturated fats. Combined, this gives Hellmann's Mayonnaise a smooth creamy taste. Free from preservatives, Hellmann's Mayonnaise is easy to cook with and to proove that Hellmanns have come up with some low calorie recipe's using their Mayonnaise.
The food experts at Hellmann's have devised a series of uncomplicated nutritious recipes to inspire people to get creative with their dishes by using Hellmann's Mayonnaise as a healthy and tasty ingredient, to satisfy even the most discerning eater.
Mash potato is a  favourite dish of mine– it's easy to prepare and goes with almost everything.  When made with butter however, it has 85% more saturated fat than when it is made with Hellmann's Real Mayonnaise, I made this today and it works exceptionally well  :
LOVED-UP MASH (85% less saturated fat than when made with butter)
Serves 4-6
Ingredients:
700g cooked potatoes
25ml milk
6 dollops* Hellmann's Real Mayonnaise
*A dollop is one level tablespoon of Hellmann's mayonnaise (15ml)
Method:
Cook potatoes in boiling water.
When the potatoes are cooked mash them.
Add milk and mayonnaise.
Mix well and serve.
Serving suggestion:
Delicious served with chicken and mixed vegetables.
Heres a few more of Hellmanns recpies :
PARADISE PASTA SALAD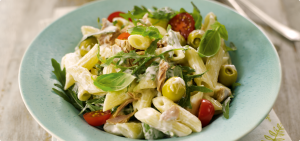 Serves 4
Ingredients:
400g Italian short pasta (rigatoni, penne, farfalle, fusilli)
150g cherry tomatoes
100g tuna in spring water (drained weight)
60g fresh rocket
100g fresh mozzarella
50g green olives
A few basil leaves
7 dollops* Hellmann's Light Mayonnaise
*A dollop is one level tablespoon of Hellmann's mayonnaise (15ml)
Method:
Cook the pasta ''al dente'' in boiling water and cool.
Clean and cut the cherry tomatoes, the fresh rocket and the basil.
Cut fresh mozzarella into cubes and add the green olives.
Mix all the ingredients together with the mayonnaise and tuna and serve.
FISHY DELISHY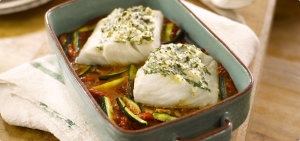 Serves 2
Ingredients:
200g white fish
125ml of your favourite tomato pasta sauce
1 clove of garlic, crushed
1 tbsp chopped parsley
2 dollops* Hellmann's Light Mayonnaise
1 courgette, thinly sliced
*A dollop is one level tablespoon of Hellmann's mayonnaise (15ml)
Method:
Take the tomato sauce and pour into an ovenproof dish.
Scatter over courgettes and place fish on top.
Mix the garlic, parsley and mayonnaise together and spread over the fish.
Bake at 180'C for 20-25 minutes or until fish is cooked.
Serving suggestion:
Delicious with a mixed green salad and penne pasta.
For more inspiration visit www.hellmanns.co.uk.