They gave us life, the least we can do is give them something with a little thought behind it. That means this year, not a leftover card and a bunch of flowers picked up at a petrol station on Sunday morning, right?  here's my pick of what's out there to help you along
Pamper
Boo Boo Shop have come up with the Luxury Mummy Spa kit.  They say the luxurious home spa kit will leave your
mums skin glowing, firm and stretch mark free. The kit includes  three of their best selling products.
Bosom Buddy – Which contains Ginkgo Biloba to firm and tighten.
A lightweight cream that tones, lifts and tightens thanks to natural wonder ingredients – centella and ginkgo biloba which help to firm and improve elasticity and argan oil to soften, smooth and tighten.
Super Stretchy Miracle Oil
A special blend of luxurious oils. Argan oil, rich in Omega 6 and 9 nourishes, firms and helps put the elasticity back in your skin while passion-flower and sweet almond oils gently soothe and soften. Also great at reducing the appearance of healed scars and damaged, uneven skin tone.
Silky Soft Body Wash
A special blend of white water lily, chamomile and avocado oil helps keep skin supple and moisturised while mallow soothes and replenishes. Natural fragrance with lemon and ginger leaving your skin happy and silky soft!
£37.99 from www.boobooshop.com , also if you use the code GG20 Boo Boo are offering 20% off to all our readers until Sunday 3rd of april
Flowers
John Lewis' flower service Blossom & Bloom have put together some special Mothers Day inspired selections and are offering free delivery on Mothers Day itself, this is my pick of the bunch: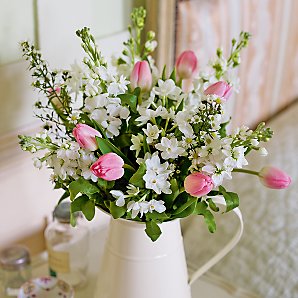 Mothers Day Scented Jug £39 (delivered )
A scented bloom  presented in a metal jug with a gift card
Take Her Out
Its not often you get to say thanks to your mum so why not do it in style with afternoon tea at The Ritz?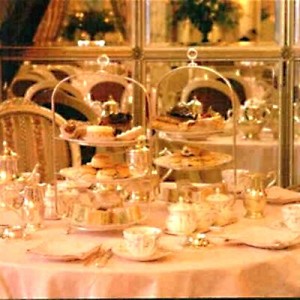 Everyone should experience this great British institution at least once and Last Minute.com have a great deal for Mothers Day.  Take your seats in the opulent surroundings of the Palm Court and enjoy an unrivaled selection of sandwiches, cakes, scones, pastries and a variety of teas and coffee. This unique present is delivered as a gift voucher valid for one year – and remember, this is The Ritz, so a jacket and tie is compulsory.
Tea for Two is £90.00 from Last Minute.com
On A Budget….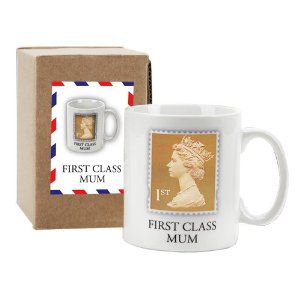 Of course if you are on a budget you could always buy your mum a mug for a tea ….
This First Class Mum mug forms part of the Stamp Collection, an exclusive range of gifts officially licensed by Royal Mail Ltd and the British Postal Museum & Archive.
First Class Mum mug is available from Amazon for £8.99