In honour of Pancake day today I'm passing on Jamie Oliver's one cup  recipe for Pancakes.
Its dead easy to follow, you don't need scales or measuring jugs just a simple coffee mug and you are good to go, which is perfect for a no fuss desert to impress the other half!
Ingredients:
• 1 egg, preferably free range or organic
• 1 cup of plain flour
• 1 cup of milk
• 1 teaspoon baking powder
• Sea salt
• 2 tablespoons butter
To make your  pancake batter
Crack your egg into a large mixing bowl. Add your flour, milk, baking powder, and a pinch of sea salt. Whisk everything together until you've got a lovely, smooth batter.
To cook your pancakes
Put a large frying pan on a medium heat and add half the butter. When the butter has melted and the pan is nice and hot, use a ladle to spoon the batter into the pan. Each ladleful will make 1 pancake—they're quite small, so you can cook several at a time. Cook for 1 to 2 minutes and use a turner to flip them over when they start to brown on the bottom and get little bubbles on the top. When cooked on both sides, transfer them to a plate, carefully wipe the pan clean with paper towels, add the rest of the butter, and start again. Keep going until all the batter is used up.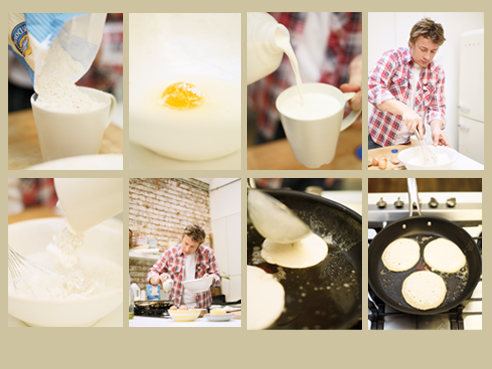 See that was easy wasn't it?  I find of all the recipes out there Jamie's are the easiest for a novice cook like me to follow, he uses simple language and explains what to do clearly, for more of the same head over to Jamie's website at :
Recipe © Jamie Oliver, 2009