It's no longer unusual for me to hear from male friends that they have just been for a manicure or a massage , it seems a simple shave and shower is no longer enough for the discerning gentleman in world led by David Beckham and the new man.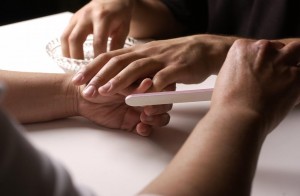 To ensure every man has the opportunity to look and feel like a A lister  London-based luxury hair and beauty spa Aldo Coppola has launched a new bespoke grooming package, just for men and they invited me to experience the package for myself.
Longer working hours, stress, city pollution and UVA damage all contribute to dehydrated skin, uneven pigmentation and fine lines, as well as prematurely grey hair. Aldo Coppola's Ultimate Man Package is a winning combination of treatments that address all these issues, leaving any man restored and revitalised.
The treatment combination includes an anti-ageing face and eye treatment to smooth away fine lines and rehydrate the skin, followed by a hand and nail treatment, completed with a hair colour, cut and style.
The face and eye treatment draws upon Aldo Coppola's renowned Fusion Mesotherapy techniques to deliver visible results. This gentle and non-invasive treatment begins with cleansing and massage before the Fusion Mesotherapy machine is used to transmit topical products deeper into the skin's layers, thanks to radio frequency waves.
This increases the skin's temperature, which stimulates collagen production and skin tightening, helping to reduce dark circles and under-eye bags, and smooth away wrinkles and expression lines. The treatment concludes with a relaxing shoulder massage, to ease away any remaining tension. I really enjoyed this treatment, it was so relaxing in fact that I think I fell alsleep for a few minutes!
No well-groomed man should be seen with rough, dry hands and split nails, so the Ultimate Man Package also includes a 'Man'-icure. Starting with a scrub to slough away hard, dry skin, the hands and arms are then treated to a relaxing massage. Nails are then filed and buffed to a natural shine. This was my first ever manicure and Ive actually had a fair few comments since the treatment about my nails from women that have noticed my nails, I now see how important keeping your nails in good condition is and do plan to get a manicure again.
Finally, for those with pesky grey hairs to disguise or those seeking a new look, the master colourists at Aldo Coppola will work with you to achieve the perfect colour. Both the Henna and Shatush colouring techniques use natural ingredients to protect and nourish the hair structure, leaving it soft, healthy and noticeably less grey. I didnt need any colour but its included as part of the package if required go for it.
After the coluring  the team will then wash, cut and style the hair to finish.
The Ultimate Man Package takes from two to two and a half hours, and is certain to leave you feeling and looking at your best when its over. I throughly enjoyed the time I spend at Aldo Copppla and I hpe you do too.

The Ultimate Man Package at Aldo Coppola is priced at £195.
For more details see www.aldocoppola.co.uk
 Aldo Coppola, 70 Sloane Avenue, South Kensington, London SW3 3DD