I'm not much of a yoghurt person, I tend to find them quite boring in general and to be truthful haven't had one for years so when I was sent a selection of Good Heavens! range of drinking Yoghurt to try I wasn't super excited but in the interests of journalism (or whatever you want to call this! ) I gave one a try.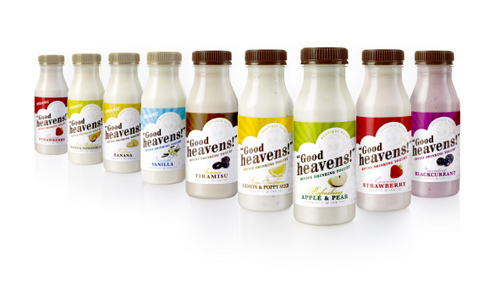 The first thing I noticed was the explosion of flavours,  they taste very fresh and not artificial at all which was my main bad memory of  drinking yoghurt of my youth, and guess what?  there's actually real fruit in there!
There are nine different flavours to choose from  including Strawberry (my favourite) as well as some more exotic choices, head over to www.good-heavens.co.uk to see the full range.
I drank my samples as a after dinner desert and really enjoyed them and opened my mind up to yoghurt's once again.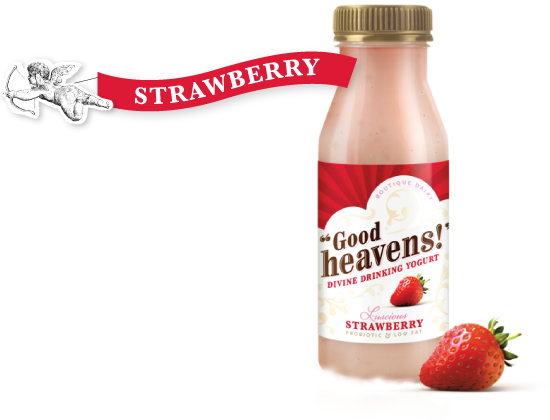 But are they any good for your waistline?
Well Good heavens! drinking yogurts are completely natural, free from any additives, packed with real fruit and contain over 25% of an adult's calcium RDA. What'smore amazing is that they're also probiotic and low-fat.
Good Heavens! Drinking Yoghurt is now available in 230 Tesco Express and Metros – but other stockists include Selfridges; Harrods; Sourced Market (St. Pancras); Whole Foods Market; the Camden Food Company (8 London train stations, plus Birmingham and Leeds) and As Nature Intended.  There are 6 non-organic and 4 organic flavours in all, with RRPs of £1.69/£2.10 respectively.
www.good-heavens.co.uk