I was excited to get the opportunity to use Blinkbox the online service to see how it compared to the more well known services, which I currently use.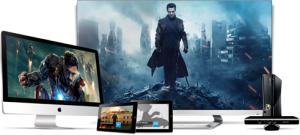 I mainly tried this service streaming through my PS3 so this review is based on that system. Downloading the program was simple and the system was easy to navigate with the films streaming smoothly. As with the other systems and DVDs, the film can be paused, rewound and if you need to stop it, you can still watch it for 48 hours from the time rented. Unfortunately to due exam revision I only got to watch a couple of movies, these being the Wolf of Wall St and The Secret Life of Walter Mitty. While browsing the movies there were plenty of new releases including all of Game Of Thrones, the Lego Movie and as well as the classics; which all have synopses, allowing you to have the arguments over if you want to watch the chick flick or the action film.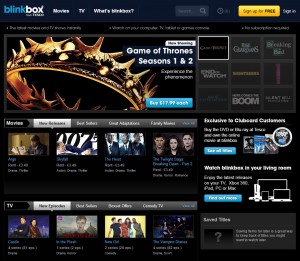 One thing that I like about this service is that there isn't a credit card attached to the system to autobill so you can keep your spending under control. My girlfriend had a problem last week when she accidently paid £21.99 for a very old TV series from another on line service by accidentally pressing the wrong button, there was no "are you sure" screen, blink box on the other hand gives an agreement/confirmation screen when you buy or rent a film, which is preferable as far as I am concerned.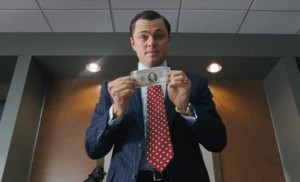 This service can be topped up with either a credit card or by buying top up cards in Tesco. These top up cards are sometimes branded with images of new releases which would make a nice gift if you are thinking of buying a DVD, this would allow them to download them. This would also prevent duplicate gifts as the top up card can be used to purchase other films and not committed to the one film.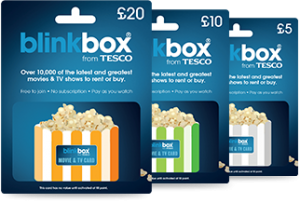 The important bit is how is it to actually watch films? Well, they work well, I had no problems with buffering or the sound going out of sync with the picture on either the PS3 or my laptop connected through my mobile phone. The picture quality didn't appear to be HD through my laptop, but was perfectly adequate to watch it and it may have been turned down due to the low bandwidth of the mobile network (I don't know this for a fact). Through the PS3 they looked very good again with no complaints against the picture quality on a 32inch screen only a few feet in front of the sofa. In summary: I was impressed with the service (as is my girlfriend who thinks it's nice and simple)we will be using them again especially to get my hands on new releases when I can't be bothered to go to the cinema or to the shops to buy on DVD.