If you think that honey is something that you spread on your toast or stir into you morning porridge then it's time to think again. I tried out two new ways with honey; both delicious and both bursting with antibacterial properties in time for the cold and flu season.
Whilst there is little you can do to ward off the dreaded cold lurgy, relieving the symptoms can make all the difference. Don't want to rely on drugs and chemical-laden remedies? Then make like Pooh Bear and reach for the honey. It doesn't just make great sandwiches for bears, but has been trusted for centuries to fight infection and relieve a tickly throat.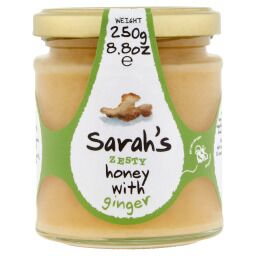 Deep in the Irish countryside at Kilkenny, Sarah Gough has created a range of fruit, nut and spice infused honeys, aptly named "Sarah's Wonderful Honey". You can use it in the same as regular honey, including in tea and cooking or as a topping for fruit or desserts. I tried Sarah's Zesty Honey with Ginger (£2.50, Sainsbury's) which was delicious on its own in a mug with boiling water but also transformed morning toast into a warming, throat soothing cold-remedy.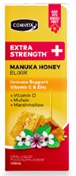 If you're looking for even more targeted relief, try Comvita's range of Manuka Honey Elixirs to help fight coughs and colds. Unlike other remedies, Comvita's new range contains only natural sugars from Manuka, Thyme and Rewarewa Honey. The range includes Winter Shield (£9.98), Extra Strength (£13.99) which includes added vitamin C and zinc, and soothing Night Time (£9.98). Alternatively, spread, drizzle or blend one of Comvita's Manuka Honeys which are all UMF (Unique Manuka Factor) rated to signify there purity and quality. It's packaged like a pharmaceutical (so you know it's doing you good, right?) but tastes just like your regular bee-based fix.
Sarah's Zesty Honey with Ginger (£2.50) and Sarah's Fruity Acacia Honey with Mixed Berries (£3) are available in the UK from Sainsbury's.
Browse the full range of Comtivta's Elixirs and Lozenges here and find their complete Manuka Honey range here.
This is a guest blog from Jonathan R Jones for Gentlemens Goods.