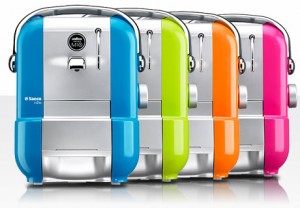 We certainly don't think coffee is dull and it seems that the good people over at Lavazza are in agreement if their new range of fabulously funky coffee makers are anything to go by.
Take your pick from traditional black or  add some brightness to your kitchen with one of these six bold limited edition colours.   It should make a tasty coffee too as it's made by Seaco (who acquired Gaggia in 1999), who know a thing or two about making coffee, and uses pressed coffee capsules and cutting edge extraction technology to produce a full-bodied and creamy espresso.  It also boasts a steam arm for cappuccinos and lattes and a hot water function for the tea drinkers.
I hope to have some money left over at pay day to treat myself to one of these beauties which are a comparative steal at only £119 from the Lavazza site and if you're quick they will throw in an exclusive gift set to make your Modo Mio complete which includes espresso cups, cappuccino cups, spoons and a sneak preview of two new blends.