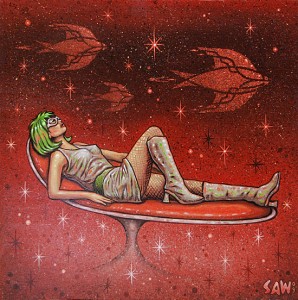 If you want to spruce up your home hanging some artworks is never a bad thing.  We don't mean that poster from Athena you have kept as a teenager, you know the one we mean. Yes, that one of the tennis player with the itchy posterior!
So scrap the posters and invest in some original art, it's not as expensive as you might think and with the advent of the internet, finding gifted artists at knockdown prices is easier than you might think.
Scott Saw is a Californian artist with a strong internet presence who finds demand for his prints and original art increasing year on year.  You only need to take a look at his work to understand why.
As well as being a thing of beauty, art is also an investment which is why we think it's a sensible idea to forget the prints and look at Scott's original art, of which there is plenty.  Unfortunately his piece, Alien Erika has been sold, to someone in the UK no less, but Scott is passionate about painting so you can be sure there will always be something available to buy.