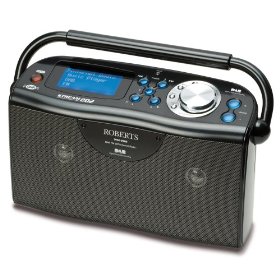 Birthdays are always a difficult time for me, I never really know what to buy loved ones who seem to have everything they really want.
For once though this year I knew exactly what to buy my dear mother; Roberts have developed the fantastic Stream 202 which is a radio with DAB, FM, and Wi-fi modes. The rather cool thing about this radio is as well as picking up internet radio stations it can also stream on demand podcasts from the net and it can even stream from your pc or macs mp3 collection which is great when you find yourself in the kitchen slaving away and fancy some choice tunes.
Yes, the radio is a little pricey at £126 but in my opinion well worth it, I just hope my mother agrees when she receives hers! You can get your Roberts Stream202 WM202BK DAB/FM/WIFI Internet Radio
from Amazon, and other good retailers.