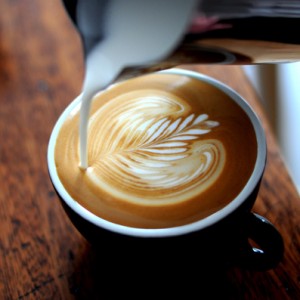 You'll notice that Mr Black likes his coffee.  That's all I ever hear him talk about, well that and cigars.  Opinion is divided on where the term Cup of Joe originates.  Most people attribute it to Josephus Daniels who banned alcohol in the Navy in 1914 but it's been used as far back as 1840, the only problem is no one from then ever bothered to write down what it meant!
Personally, I'm more of a tea drinker but there is a distinct lack of establishments catering to the tea lover.  If you thought those ghastly coffee shop chains butchered coffee you should see what they do to tea! So with this in mind I thought I'd highlight a few places around the UK that serve superior coffees and not a chain in sight.
London
For one of the best espresso's in town you really have to give The Espresso Room a try.  It's a classic example of a true, independent coffee house.  Don't be put off by the intimidating demeanour when you first encounter it, one sip of the magical dark elixir will soon put you at ease. Address: 31-35 Great Ormond Street, WC1N 3HZ
For a particularly fine filter coffee I would heartily recommend The Tea and Coffee Plant. They are an importer/bean roaster with a café on the side.  The coffee is organic and Fairtrade and with it's chilled-out vibe in Notting Hill it's perfect for a spot of people watching. Address: 180 Portobello Road, W11 2EB
Kaffeine is an Antipodean-style coffee house which boasts a Synesso espresso machine.  This, according to the experts, is the Rolls Royce of espresso machines.  I wouldn't know about that being more of a Bentley man myself but the coffees are rather good! I'm told the Chocolate Brownies are very tasty but it would feel adulterous to try one when I see their amazing Lamingtons sitting there Address: 66 Great Titchfield Street, W1W 7QJ
Now, London is my stomping ground so to speak but I also know it's not the epicentre of the universe so I left a note for the milkman telling him to suspend deliveries for a week and traversed this great isle in search of more great coffee establishments.  Perfect if you find yourself out of town one fine weekend!
South England
If you ever find yourself in Cornwall and gasping for a cuppa head for Wadebridge for there you will find Relish, which has a deli and a café serving nice food as well as great coffee.  Address: Foundry Court, Wadebridge, Cornwall PL27 7QN
I knew there had to be a reason to visit Brighton and I found it in Ground (no website, just great coffee) It's a compact and bijou café with very friendly staff who take pride in their work and feature guest single-estate coffees that are all very tasty.  I'll be shocked if you only visit here once! Address: Ground, 36 George's Road, Brighton, BN2 1ED   Tel: 01273 696 441
Oxford is famous for many things but I suspect Combibos is not listed on any tourist map, yet! It's a family owned and run café and as well as splendid coffee they serve up scrumptious breakfasts.  Staff are so friendly and attentive I'd consider moving just to call this my local!  Address: 93 Gloucester Green, Oxford OX1 2BU
North England
There's a certain feel in Leoni's Coffee House (no website), it's the exact opposite feeling I get in one of those chains whose name I dare not speak.  It's cosily down to earth with no pretensions to be anything other than a  smashing coffee shop serving up fine coffee with good food.  Address: Leoni's Coffee House, 16 Wheelgate, Malton, North Yorkshire YO17 7HP Tel: 01653 691 321
Not content with one great coffee shop, Leeds has two, both of which are named the Opposite Café.  I only ventured to the one in the Victoria Quarter as I fear I'm a little old to be loitering near Universities where I often get mistaken for an archaeology professor, I think it's the monocle?! Anyway, the Opposite serves up a proper cup of coffee and the staff really know their beans.  Address: Victoria Quarter, Queen Victoria Street, Leeds LS1 6AZ Leeds
My final destination was the Coolaboola which is situated in a station.  So yes, you can just grab a coffee and go but to do so would render you liable to missing out on the wealth of knowledge the staff have on both the farms where the beans come from as well as the flavour profile.  These chaps really do care about the black stuff and if you're catching a train out of Dodge a pit-stop here will make any train journey glide by.  Address: Jesmond Metro Station, Jesmond, Newcastle upon Tyne NE2 4RH
So, that's a few places in England to try out.  In the next month or two I shall be exploring North of Hadrian's Wall as well as nipping over to the Valleys in a bid to find the local cafés that are refreshing taste-buds.  Do leave a comment if you know of a coffee shop that serves up a decent cup of Joe.