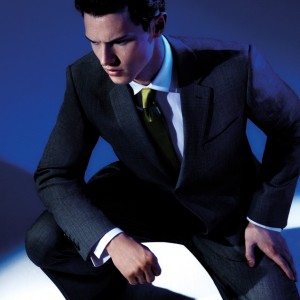 The suit is no passing trend – it's an essential wardrobe piece. While some suit styles, cuts and fits may move in and out every season, Richard James knows how to give the classic-style suit some modern flair.
Which is why I was very excited to hear the Savile Row legend had designed a range for premium high street chain Austin Reed.
While in Austin Reeds Regent Street store I tried on the Navy Sharkskin suit from the range, mainly out of curiosity with no intention to buy but was amazed how well the suit hung and at £500 a bargain compared to what you would pay for James' own off the rack range which to be honest I don't feel are any better than what is on offer here.
The suits are exquisitely cut in luxurious lightweight mohair's and wool silk mixes in subtle summer colours which combined with James' signature sharp tailoring finished to create a strong British tailored look this collection really is something special.
There are also a range of shirts and ties,  the ties were fairly standard but the shirts again I was impressed with the attention to detail, a very nice touch are the mother of pearl buttons which you really don't see on the high street so well done Austin Reed I'm impressed although my wallet is less so!
Austin Reeds 'Cut' Range is available now from selected Austin Reeds stores and online at www.AustinReed.co.uk Suits start at £500, Shirts £70 and ties £45