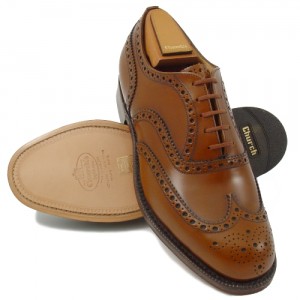 Church's was founded in 1873 by Thomas Church and his three sons Alfred, William and Thomas Jr., who could count on family experience in the production of handmade men's shoes dating back to 1675.  Church's is based in Northampton, not far from London, in a county which has been at the centre of a  flourishing leather and footwear industry since the Middle Ages.
If you ask anyone that knows their men's fashion they will tell you Church's produce some of the best English made  men's shoes you can buy and have a well earned reputation for good quality leather and production, they produce a range of traditional and fashion shoes.
However recently Church's have become a little less English with the Italian fashion house Prada having bought a controlling stake in the company.  Don't let this put you off though as the quality and process seem to be unchanged and the shoes are still made in the same factory in Northampton where the techniques haven't really altered a great deal in well over a hundred years.
I always think when it comes to shoes its best not to go too wacky and stick to something fairly traditional like these fantastic brogue's in Sandlewood which would look great with a smart pair of jeans and jacket or a nice navy suit for the office?  They are also available in black but if you are like me you will have far too many pairs of black shoes, why not stand out from the crowd while still playing things fairly safe!
The Church Burwood Brogues are available from Herring Shoes for £335.00 as well as other good retailers.