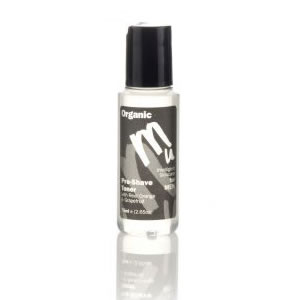 If there's one thing I've discovered over the years, it's that not all skincare products are the same.  You've probably realised that too if you've ever used one product for a period of time and then tried something different, something that appears to be the same.  What makes a £2 moisturiser any different from a £30 moisturiser?  It's the same thing that makes a £2 bottle of wine different from a £30 bottle; the quality of the ingredients and the manufacturing process.
Until recently neither Mr Black nor I had heard of organic skincare products but for the last few months I've been using a variety of products from the Mu for Men range by Essentially Yours (Mu is the far Eastern term for nothing). For a start all the items in the Mu for Men range are not only 100% organic they're approved by both the Vegetarian Society and the Vegan Society.  In addition, as they contain no animal ingredients or alcohol they are suitable for those following Halal.
Why is organic better for you and your skin?  Well, if you look at the ingredients in Gillette shave gel you'll discover they include Polytetrafluoroethylene, this is the stuff that reduces the friction between blade and skin.  It's also known as Teflon, that's right, the stuff that coats your frying pan.  What about innocent sounding BHT? It's better known as Butylated Hydroxytoluene and is used in jet fuels and embalming fluid. Those are just 2 of the ingredients found in a wide variety of popular products but how many of us have ever bothered to research what we're putting on our skin?
Suddenly organic skincare products make perfect sense.  Take Mu for Men's shave oil for instance, it only contains Sweet Almond Oil, Tea Tree oil, Cedarwood, Limonene and Linalool. Not much good for frying an egg but excellent for shaving your face!
The Mu for Men range is quite extensive so whether you're looking for shave oil, a moisturiser, face scrub, face mask, face wash or eye firming serum you'll find they have a 100% organic replacement for your current chemical product. Doesn't your skin deserve chemical free?
I should also mention the Eucalyptus & Juniper Bath/Shower Gel from the Love Your Body range.  A little bit more expensive that your typical shower gel but for once I really did feel invigorated after using, it's highly effective if you have a cold or flu as it's decongestant properties will clear your airways in a jiffy.
You can purchase the entire Mu for Men range directly from the Essentially Yours website where you'll also discover products for both children and women.
COMPETITION
If you would like to win 75ml bottles of Mu for Men's Pre-Shave Toner, Shave Oil and Facial Scrub (worth almost £40) just leave your answer to the following question as a comment before midnight (GMT) Sunday 17 October 2010.
Question: What is Mu the far Eastern term for?
A winner will be chosen at random from all the correct entries on Monday 18 October 2010. (Sorry, only open to entrants from within the UK)
**EDIT**
The first name from the super computer was Mike. Congratulations Mike, we've emailed you…