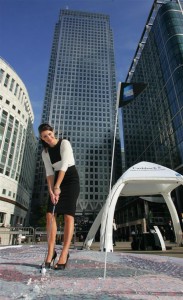 Unless you are me or you've been living in a sand bunker, you'll no doubt be familiar with Kirsty Gallacher, the Edinburgh born daughter of golfer Bernard Gallacher.  I gather she is something of a pin-up but as my walls still have fading photographs of Vera Lynn on them I've not had cause to seek young Miss Gallacher out but I may remedy that this Thursday.
Why Thursday? well, on that day Kirsty will be asking people to pitch a putt on a life size putting green made entirely from real and replica money. Kirsty has partnered with American Express to bring this unique golfing experience to London and for every person who manages to get a hole-in-one American Express will donate £100 to Cancer Research UK and at the end of the day one lucky putter will walk away for £1,000.
When asked about the event Kirsty commented "I've seen a lot of putting greens in my lifetime but can honestly say this is the most unique. I'm really looking forward to the tournament at Canary Wharf as it's certainly going be a challenge for contestants. We want the experience to be as fun as possible and as well as raising money for a great cause, we hope to encourage a few more people to consider taking up the sport as it's a great way to spend a cashback reward."
The putting green itself is one of five bespoke models crafted from cash and belongs to a unique collection known as the 'Cashback 5'. The 'Cashback 5' collection came about as a result of a survey carried out by American Express in July into everyday consumer spending habits. 3,000 men were asked how they would spend a cash windfall equivalent to the amount an average American Express Platinum Cashback Credit Cardmember would receive in a year i.e. £250. The five most popular responses were: a round of golf; a pair of hand-made brogues; designer sunglasses; a stylish watch and vintage Champagne. All five have been brought to life using real and replica money.
The video below shows the making of all five items in the 'Cashback 5' collection and you can find out more by visiting www.amex.co.uk/cashback5
So, if you fancy trying your luck on the green head along to Canary Wharf underground station on Thursday 29 September between 7.30am and 7pm where you'll find Kirsty keeping score as passing office workers, shoppers and local residents take up the challenge to pitch a putt on a green with a difference.