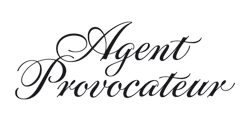 I'm not sure of the statistics but I feel certain that perhaps with the exception of Valentine's Day, Christmas is one of the most popular occasions for men to feel it appropriate to give the gift of lingerie to their partners.
Things have come on a long way from the days when you'd see red-faced men furtively browsing the lingerie section in department stores, intent on taking home something racy but when confronted by an assistant offering help in choosing something they'd leave with something more suited to their Great Aunt Maude.
The arrival of Agent Provocateur in 1994 changed all that. Suddenly men and women had a place to shop discreetly for beautiful, feminine lingerie that women would delight in wearing.  The chain now has over 30 stores in 13 countries as well as their website which lives up to its claim to be the sexiest lingerie website in the world. Quite simply, Agent Provocateur sells some of the most luxurious lingerie and decadent sleepwear imaginable which is sure to please the recipient and put you in the good books.
Their timeless Classic Collection ensures women can be sexy and professional as the mood takes them. These are stunning pieces that never go out of fashion and make perfect gifts. Some items you might want to consider are The Love Bra, The Fifi Bra or The Shazam Bra
If you're looking for that racier item then fear not, Agent Provocateur has a wide selection of garments that are most certainly not for the faint hearted but are the ultimate choice for a night of pure seduction in the boudoir! Things you'll definitely want to consider are The Nadia Basque, The Cendrillon Playsuit and The Marylin Bra
This week Agent Provocateur launched their Christmas Guide which as well as including some of the items I've already mentioned has some stunning items, like The Kiki Kimono which certainly beats a dressing gown from BHS!
They have also produced a handy buying guide for men because after all, you can never have too much information and if you get really, really stuck why not direct your loved one to Agent Provocateur's wishlist facility? That way even though she'll have an idea what she'll be getting, you'll know it's something she wants and it certainly beats unwrapping a gift voucher! That said, with a gift voucher you may strike lucky and get invited to go shopping with her!
All purchases from Agent Provocateur come beautifully packed in luxurious pink boxes wrapped with silky black ribbon at no extra cost and they offer a no quibble money back guarantee, just in case!