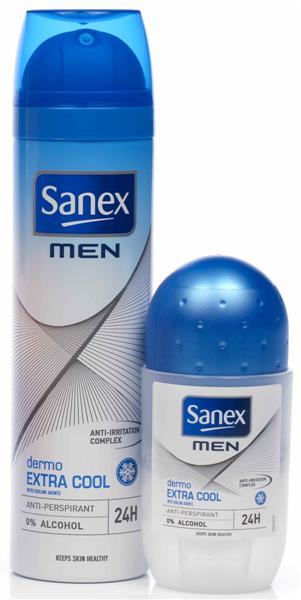 Like most men reading this, one of the first things I do after showering is to apply anti-perspirant. For some people anti-perspirant is just the first product they find on offer at Boots or Superdrug but those boffins at Sanex know there's more to it than that.
It's accepted as fact that the average male has a higher muscle mass and metabolism so it is natural that our sweat glands tend to be more active and because we're special our sweat has some specific components responsible for odour which comes not from the perspiration itself but from its reaction to armpit bacteria.
Sanex Men's Dermo Extra Cool is alcohol free and has been formulated to maintain the skins natural pH level of around 5, quite simply this means it's less likely to cause irritation to the skin. Sanex have even chosen deodorising fragrances that avoid skin allergens, while they call it a masculine fragrance, I'd say it was a fairly neutral fresh scent, which I guess is what you want at the end of the day.
Talking of the end of the day; that is what you still smell, the same neutral scent that you started the day with. Sanex put this down to the unique cooling agents in the Dermo Extra Cool range which really do seem to provide a long lasting, fresh feeling on the skin without the use of skin-drying alcohol or menthol; exactly what you'll need for the office Christmas party!
So, next time you're shopping for antiperspirant, consider trying something from Sanex Men's Dermo Extra Cool range as you'll be taking care of not just underarm odour and wetness but more importantly, your skin too.
Sanex Men's Dermo Extra Cool is available in 150ml aerosol and 50ml roll-on with a RRP of £2.09 and £1.69 respectively. You can buy it exclusively from Tesco until the New Year after which it will be available Nationwide.
COMPETITION
We have one of each to giveaway just leave a comment below before noon on Sunday 12 December 2010 stating whether you'd prefer the roll-on or the aerosol. Winners will be chosen at random and notified by email. Sorry, only open to those with a UK postal address.