For a unique and tantalising twist to your Christmas celebration, SodaStream has joined forces with celebrity mixologist Bryan Pietersen to create the Ultimate Christmas Cocktail.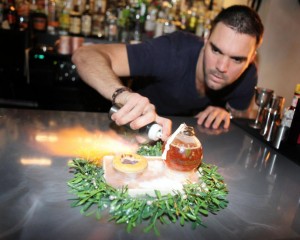 The iconic brand and leading mixologist teamed up to create this distinctive tasting limited edition cocktail – which goes on sale at Purl bar in London this December.
Bryan's team are known for their Heston Blumenthal approach to cocktail-making and this unique cocktail sees SodaStream mix two of their most popular flavours – Apple and Ginger Ale – with the ultimate in festive ingredients – including cinnamon, cloves, nutmeg, to create a lip-smacking, tongue-tingling cocktail.
For the flamboyant finishing touch the cocktail is served in a Christmas Bauble along with a flaming mince pie surrounded by a misty cloud of dry ice! There will be no other drink to have this December.
To sample this delicious concoction head down to Purl bar – 50/54 Blandford Street, Marylebone, London, W1U 8JX Or if you followed my advice last month and bought yourself a Soda Stream you can make the cocktail in the comfort of your own home by mixing the following ingredients in your drinks maker :
200ml. Mineral Water
200ml Apple Juice
50ml SodaStream Apple Syrup
100ml Gin 50ml Winter Syrup 10ml Sodastream Ginger Ale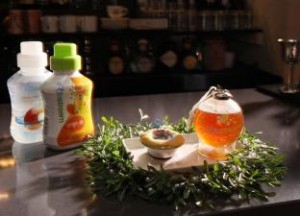 SodaStream drinksmakers are available from selected Sainsbury, Maplin, John Lewis, Comet, Argos, Robert Dyas, Lakeland and selected Asda stores, including Asda Living. The drinks makers cost from £49.99 and flavours from £2.99. For more information visit www.SodaStream.co.uk or look them up on Twitter @sodastreamuk.