I have reviewed The Gentry Grooming Companies products before and am really excited when they announced the addition of a eye cream to their range.
Eye Cream is fast becoming part of the modern mans daily grooming routine, often the eye area is the first part of the face that shows signs of ageing is its important we take care of the delicate skin around the eyes.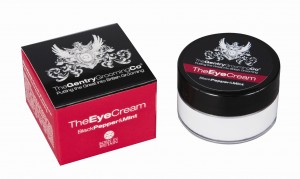 The Gentry Grooming Co has developed an intelligent age-defying eye cream that is over 93% natural, PH balanced and does not contain any chemical preservatives, artificial fragrances, alcohol or parabens that irritate the skin.
Developed especially for men, THE EYE CREAM (15ml), £14.95, reduces under-eye bags, dark circles, puffiness, fine lines and wrinkles, as well as hydrating the delicate eye area.
Infused with Black Pepper & Mint, The Eye Cream has a light, non greasy formula that is easily absorbed into the delicate eye area. Packed full of natural ingredients, including nourishing Shea Butter and Ceramide this age-defying eye cream protects against UV and free radical damage.
Vitamin Extracts, Beeswax, Pure Oils and a blend of Essential Oils work together to improve the skin's elasticity, whilst NMF's (Natural Moisturising Factors) allow the skin cells to repair and regenerate to visibly reduce the signs of ageing.
Stockists: www.gentrygrooming.com / www.houseofraser.co.uk / www.washbag.com / www.theenglishshavingcompany.com / www.feelunique.com /