The Gentry Grooming Co are launching their new  revolutionary 3D Shave. This genius 3-Dimensional Shave System is a Shave Cream, Shave Oil and a Moisturiser all in one that can be used without water and with an electric razor!
The 3D shave gel is part of Gentry Grooming Co's Esstential range which we have talked about before,and is infused with the same  Black Pepper & Mint as their other products in the range.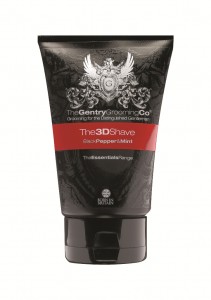 The revolutionary formula helps to soothe, moisturise and condition the skin, preventing razor burn and in-growing hairs. Packed full of natural ingredients including Grape Seed Oil and Shea Nut Butter, the 3D system also contains a Ceramide to allow the skin cells to repair and regenerate.
The 100ml 3D Shave System meets airline carry on regulations, ideal for frequent flyers, businessmen and guys who want to groom on the go!
Also Gentry Grooming have created a great video demostrating the perfect shave
The 3d Shave can be purchased at the following locations :
House of Fraser Manchester & Glasgow / The Gentry Grooming Co Salons