Pot Noodles are and have been a staple in every single mans cupboard for years, maybe because they are quick require no preparation or cooking skills other than boiling the kettle or maybe because they are just damn tasty either way my cupboard always has a few and I'm sure yours does whether you admit it or not!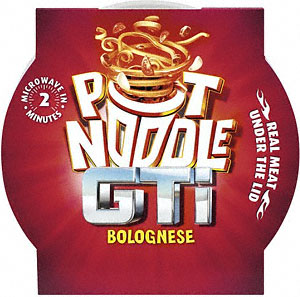 Up until now Pot Noodles have been meat free, but that's all about to change with the launch of Pot Noodle GTI. Each pot has real meat in the pot and now doesn't even require the boil of a kettle! simply peel back the lid, nuke, stir and scoff! ….. Its just the right amount of food before a night out.
There are four flavours – if you're a smooth Italian on the road then Spaghetti Bolognese is for you. If you like it hot and spicy and wheel spins are your thing, then grab the Tikka Masala. If it's all about the spoiler and exhausts then get stuck into the Mexican mayhem of Chilli Con Carne, and finally if you like a smooth sweet ride then  Sweet and Sour is the one for you.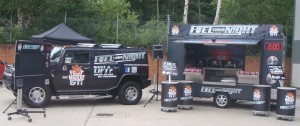 To celebrate the launch of Pot Noodle GTi, the Pot Noodle GTi hummer is going on a tour of the country. The Hummer will roll into each city at 1pm on the dates in question, and Pot Noodle GTi fans will participate in a series of challenges, which are all about getting ready for the ultimate night out and the person with the highest score on the day will be crowned the Pot Noodle GTi winner, receiving an Ultimate Night Out worth a grand for them & their mates! The winner & their mates will get fully fuelled up with Pot Noodle GTi, get picked up and taken to a top night club, and receive free entry, reserved seating, and a bar tab to keep partying into the small hours. While you're down there, you can sample the Pot Noodle GTi, and also jump into the Pot Noodle GTi hummer for a pre-night prep session – a fashion blitz, a brand new haircut, a styling, or to check out your chat up lines! You might even be lucky enough to get a pair of the limited edition Pot Noodle GTi lucky pants… You'll have to head on down to find out how!
Head over to www.facebook.com/potnoodle for more info and check out the tour dates on the map below, and get down there early and register for the competition as only the first 15 people will qualify to enter which takes place between 3-4pm at each venue.