Recently I was asked to the launch of the new Ford Focus, Im not much of a car man so intially I thought I wouldnt be that interested as well a Ford Focus is just a Focus isnt it? well it turns out no its not.
Ford have given the Focus a massive redesign both in and out, and there's certainly no mistaking the new Ford Focus for the old one with its modern sleek looks its a lifetime away from the old S Reg Focus bought when I first past my test.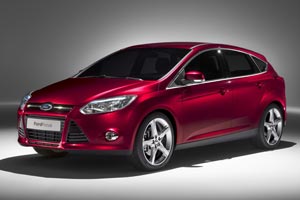 I think whats most impressive to me though is the tech Ford have installed into the Focus, it makes me think how far away can we be from a car that drives us home from the pub? … yeah ok I wish
Heres a break down :
Active Park Assist:
This is probably one of the coolest features of the new Ford Focus. It's called 'Active Park Assist' and as the name suggest the car can literally park itself. The clever technology checks the space around the car first to measure the space around it (essential for narrow/busy roads) and then measures the space of the chosen car park space to ensure a perfect fit before automatically steering itself in
Parking Assist Video

Blind Spot Information System:
Using radar sensors, the Blind Spot Information System has been designed to see things that might be hidden in the drivers blind spot, such as other vehicles. This is essential when driving down a busy main road and you wish to over take or switch lanes. With the Blind Spot Information System the sensors detect whether there is a car in the drivers blind spot and it will then alert him/her with a orange warning light in their door mirror to let them know there may be something in their blind spot:
Low Speed Safety System:
Low Speed Safety System has been designed to support drivers in slow moving traffic (speeds under 20mph). The Low Speed Safety system sensors sense the distance of the traffic ahead, and will apply the brakes should the vehicle in front unexpectedly stop.
Low Speed Safety System Video
Eco Boost engine:
The new Ford Focus has also got a lighter more compact Eco Boost engine which works more efficiently to inject fuel into each cylinder. This technology helps to use less fuel and produces lower CO2 emissions, whilst delivering the performance of an larger engine:
So there we have it an impressive little car, the feature that wows me the most though is the Active parking assit which totally amazes me watching that video.
If you would like more information about the new Ford Focus please visit: http://www.ford.co.uk/Cars/Focus/Overview or take a look at the Ford Focus Facebook page: http://www.facebook.com/fordfocus