Onkens Fat Free range of Yogurts have been a staple part of my diet for a while now which is why I'm excited to hear they are adding  'Mango & Apple' Fat Free to their range.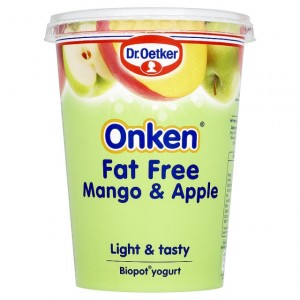 The new flavour is not only deliciously fruity but totally fat free so can be enjoyed completely 'guilt free' this Springtime!
The infusion of exotic mango and juicy apples gives a refreshing flavour without tasting like its lacking something. So, if you're spring cleansing your diet as well as your home or wardrobe, then this light and tasty new Fat Free big pot is the perfect choice for you.
Onken's unique blend of bio cultures gives this gorgeous yogurt that light and tasty, fresh and fruity taste, use at breakfast time, poured over cereals, enjoy as a dessert or even a snack! Simply pour onto chunks of your favourite fruit for a delicious take on the classic fruit salad; the possibilities are endless!
Fat Free Mango & Apple joins the rest of the delicious, no.1 big pot range from Onken*, which includes Strawberry, Raspberry, Cherry, Coconut, Mango Papaya & Passion Fruit and Rhubarb & Vanilla.
Onken's Fat Free Mango & Apple yogurt comes in a 450g big pot and is available from all major retailers, RSP £1.15
For more info head over to www.onken.co.uk