We all should eat plenty of fruit and vegetables and most of us don't eat enough, me being one of them so its good news that Ocado have launched a new fruit, veg and salad box range.
Inside Ocado's new Organic Fruit, Vegetable and Salad Boxes you'll find the freshest ingredients – everything from rainbow carrots and red Robinta potatoes to succulent Conference pears and juicy apples, all available to order now from just £17.99
Ocado's Veg and Salad Box includes 11 healthy vegetables and salad ingredients that will feed your household's weekly 'five-a-day' needs for just £17.99. Even hungrier households can opt for Ocado's bumper Fruit, Veg and Salad Box, offering 13 of the freshest fruits, vegetables and salad items for £24.99.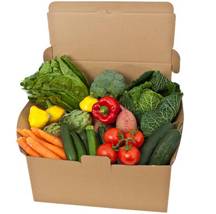 All of Ocado's produce, grown to strict Soil Association standards, has been personally selected and packed to perfection. Upon ordering, Ocado's friendly drivers will whisk them straight to your kitchen table in a handy one-hour time slot.
I like the idea of these boxes, you get to try a variety seasonal of fruit and veg and don't really have to think too much about it, just select the box in your on-line basket and its done.

Visit Ocado's website (www.ocado.com) to find out which delicious weekly items are up for grabs in each organic box, and to take a sneak-peak at what's expected inside the following week's offerings too.