As a child on occasion my dad would give me a ginger beer as a treat, I felt all grown up thinking I was having a beer , now I'm all grown up but I still love ginger beer which is why I'm excited about Stones new Ginger Joe alcoholic Ginger beer.
Light and refreshing, with subtle yet spicy ginger notes,  Ginger Joe offers a thirst-quenching alternative to the usual offerings in the bar. The alcoholic ginger beer really tingles the taste-buds; providing the perfect tipple on a cold winters night.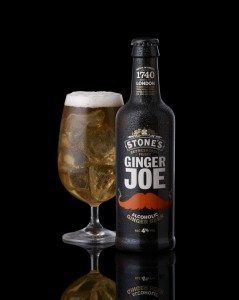 For more information visit www.gingerjoe.co.uk or join the fan site at www.facebook.com/gingerjoeuk and check out the new tache-tastic Facebook app.