While Mary Portas moans about us leaving the high street in droves I doubt even she could find fault with Chocolate by post!  which is exactly the service Montezuma offers with their  Real Chocolate Club.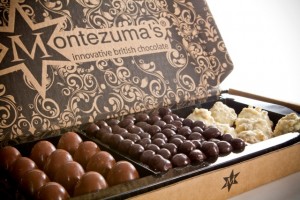 The innovative British firm has created a fantastic 'chocolate by post' concept – one that requires no signature (or inconvenient trips to the post office) as it comes in a nifty box that simply slips through the letterbox!
For just £19.99 pcm (inc. postage), a whopping 600g of delicious chocolate bars and truffles will land on the doormat.
People can sign up – or be signed up – for just one month, but a year's subscription works out at only £4.99/week.   There's no obligation or 'catch' and there are 3 options of membership – Rolling, Fixed Length Personal or Fixed Length Gift.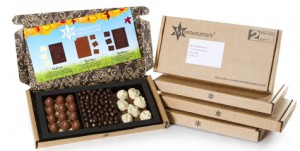 In each box, there's 3 different flavoured bars, plus 3 individual sets of truffles – exciting new creations that recipients will be the first to taste, before they go into the shops…if at all!
Each month sees the Montezuma's team dream up new flavours – often inspired by a particular 'foodie' theme.  November's box had a strong 'pudding' angle to it, featuring an Eton Mess truffle; an apple crumble and milk chocolate truffle; as well as a dark chocolate lemon meringue truffle.  These were complemented by a beautifully rounded milk chocolate bar with salted peanuts and butterscotch; a treacle tart milk chocolate bar and a dark chocolate one with orange and whole hazelnuts.
An ideal Christmas present or for any occasion really, I certainly will be putting  a order in for my usually impossible to shop for mother.
For more information on Montezuma's  Chocolate club head over to  http://www.montezumas.co.uk/theclub