Recently I was invited to try Wilkinson Swords brand new Razor the Hydro 5 Power Select, and over the last month I have been using it for my daily shave to give it a proper evaluation.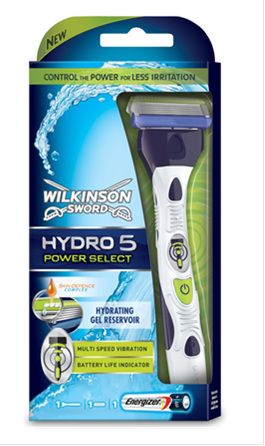 I think we are all getting a bit tired of a new razor coming out every year claiming to be the next big thing in shaving by adding that all important ( or not!) extra blade and to be honest I expect the Hydro 5 to be no different but after near on a month using it I will say its probably the best shave I have ever given myself, not as good a a professional cut throat shave but its very close!

The razor has a built in vibration  setting which can be customised to limit skin irritation and also a handy battery indicator lets you know clearly when you are about to run out of juice.

Probably my favourite feature of this new razor though is the gel reservoir which contains Wilkinson Swords 'skin defence complex'  which hydrates your skin during the shave and feels rather wonderful once you are done.
If you are in the market for a new razor I can thoroughly recomend the Hydro 5, I'm really happy with the close shave and the soft and refreshed feeeling after the shave, Im sure you will be too.
Wilkinson Sword Hydro 5 Power select is available nationwide now with a RRP of £12.99 for the razor and a pack of 4 blades is £9.99