I had my 32nd birthday a few weeks ago and with each passing birthday if you are anything like me you start to examine your face more and more for signs of aging, not that 32 is old but Im still not immune from lines forming around my eyes, Im sure many of you can relate with my concerns.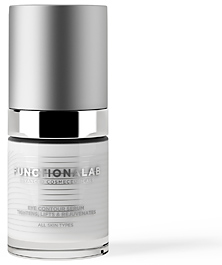 I knew I was looking a bit tried,  maybe its due to that extra year or maybe its partying too hard  whatever the cause I thought I would do something about it so I started using Functionalab's Eye Contour Serum a few weeks ago.
The results ?  interesting, I don't usually hold much faith in these things but I have genuinily had comments like  " whats different about you?"  " you look great?"  that sort of thing and I really must put it down to the product as Ive not really been doing anything else different.
Functionalab say the Eye Contour Serum provides an instant lift and reduces the appearance of lines and wrinkles, and I have to hand it to them, I think it works!
The Eye Contour Serum is part of a range from Functionalab and is available now at www.Boots.com and Boots Stores at £45.00