For what seems like years ever since I started commuting to work on the London Underground I have been looking for a decent bag that can accommodate my Ipad, gym gear , water bottle and various other things I like to have with me for work.
I thought this would be fair simple, all I needed to do was buy myself backpack online with a padded compartment and I would be good to go… well 4-5 bags later I can tell you its really not as simple as that!
The thing is on the tube space is tight, leg room is limited and if you are tall like me even more so.  Most backpacks are too fat and bulky, if I put them on the floor there's not much space for my feet to go and its uncomfortable, if I put the bag on my lap again its uncomfortable so then I thought I would try a leather satchel type bag but it wasn't big enough for all my stuff and I again had the problem with it being uncomfortable.
Ive been in this circle of bag or unsuitable bags for a while now and I will be honest when I was offered this next bag for review I figured it would most likely be too small for my needs and awkward to use but I can honestly say I am blown away by how awesome the Booq Boa squeeze bag is.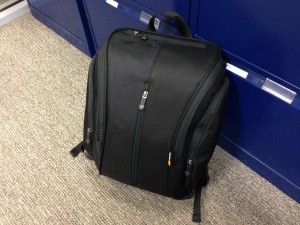 The first thing you notice is the shape, its a little different from most backpacks, then you notice the size, it does look quite small compared to most day packs I've tried but this for me worked really well its the perfect size to slip between my feet on the train, and I mean perfect!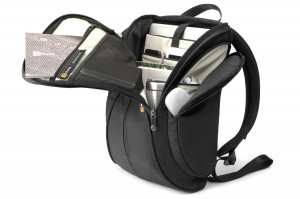 When you open up the bag its obvious its well made, nothing seems cheap about the materials and the construction seems really solid.
The pouch inside for the laptop is designed to take upto a 15″ Macbook but I have been using it for my Ipad and works really well, the way the bag is designed it hugs the Ipad even though its much smaller than the designed for Macbook leaving me confident it will stay in there safe.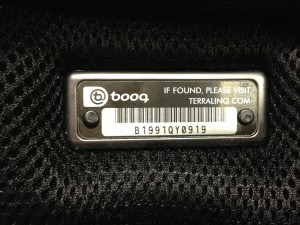 Another cool feature (although admittedly relies on peoples honesty and good will)  is this plate on the back of the bag, if you leave your bag on the train say, and someone finds it, they go to the mentioned website type in the bags unique number and Booq Bags will reunite you with your bag!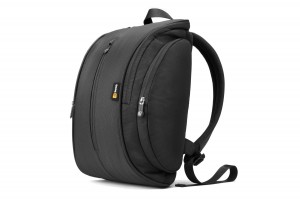 So in conclusion I'm really happy with the Booq Boa Squeeze,  I can get my Ipad, gym gear, water bottle, supplements, keys, face towel  and more all in here with what seems like plenty of room and pockets to spare, let its so small!
A massive thumbs up from me go get one now!!!
Boa squeeze is now available for £113.95 at www.booqbags.co.uk
About booq:
Booq strives to create high-end laptop bags while providing excellent customer service to the next generation of ambitious creative professionals. It is no accident that this privately-held family company was started, and is still run, by a small team of highly motivated creative individuals who are committed to providing the highest level of product performance and service to some of the world's most demanding customers for many years to come.