Continuing the fantastic Stella Artois Connoisseurs Series is Shelina Permalloo the 2012 winner of MasterChef.
Shelina is the first female face of the Connoisseurs Series, which offers a unique look into the world of renowned quality craftspeople, from Oscar nominated directors to stars of the sporting world, highlighting their individual craft, capturing their passion and vision. Each film explores the role of rituals in their profession and how this has helped their success, allowing them to meet the highest standards in their field.
In the film Shelina discusses her recipe inspirations and the experiences she wants to give people through her food.
The recipe being prepared in the film is Shelinas take on Lobster Salad, specially created to pair with Stella Artois Cidre, if you would like to give it ago yourself here it is below, I know I will take any excuse to drink a bottle of Cidre!!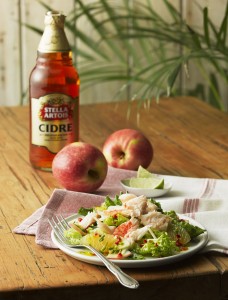 Serves: 4
Preparation time: 10 minutes
You will need
600g freshly picked lobster meat (white meat only)
2 whole apples, thinly sliced
1/4 grapefruit, segmented
28g coriander stalks, finely chopped and leaves coarsely chopped
10 mint leaves, finely chopped
3 tbsp. rapeseed oil
1 tbsp. fish sauce
1 tbsp. unrefined light muscavado sugar
1 whole mild red chilli seeds
Juice of 2 limes
500g mixed salad leaves
Method
1. In a large mixing bowl, whisk together the fish sauce, lime juice, unrefined sugar, chilli and coriander stalk until emulsified.
2. Add to this dressing the mixed leaves, grapefruit, apples, coriander and mint until completely dressed.
3. Scatter over the crab meat, and serve.
4. Enjoy with a cool chalice of Stella Artois Cidre