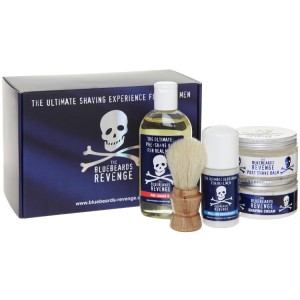 I was excited to receive a fantastically masculine "deluxe kit" from Bluebeard's revenge. The holographic skull and crossed bones adorned gift boxed ensemble consists of: Pre-shave oil, shaving cream, post shave balm, "doubloon" shaving brush, and a roll on antiperspirant deodorant. Alongside this set I also received the cologne and a shavette straight razor (these will be reviewed in the future).  These products are all in separate individual boxes in the blue gift box, but more of that later.
The thing that stands out with this brand the unashamed marketing telling "the bum fluff brigade" and girls that they need not apply, a la Yorkie bars. Another nice and more serious aspect is the supporting of the orchid charity, this charity supports male cancer sufferers and provides preventative education. In supporting this charity the typically unprinted inside of the boxes are printed with advice on symptoms and self examination to help in detecting cancers early etc. (so there is no excuse not to check your balls when alone in the bathroom).
First up the pre shave oil: This is a new thing to my wet shave regime, I've never seen the need for this until I was sent this to try. This stuff is fantastic, I always struggle with getting a close & irritation free shave on the right side of my neck due to a strange hair growth pattern. When I apply this first, no matter what shave cream I use the irritation is reduced.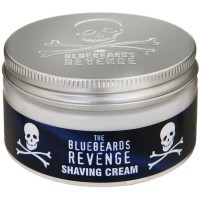 Next is the shave cream, the scent was developed to remind the user of a classic English barbershop (the sort that shaves, not the sort that performs surgical operations) with a modern twist. The scent has grown on me and I now really enjoy it, so stick with it if you are used to the more floral scents that men are bombarded with these days. This product lathers well and provides a great level of lubrication for even the sharpest blade, twinned with the pre-shave oil the shave is the most comfortable and easiest close shave I've had. There is a growth inhibitor in this cream, there is science behind the claims, but I've not used it enough to comment on this.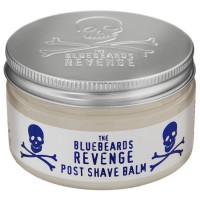 To finish the shave there is the need for a shave balm. This little tub of gel has a very gelatinous consistency with a scent that follows the rest of the range. Once you slap it on the Aloe Vera gets to work and sooths any irritation that has occurred. This scent lingers for hours at a pleasant level.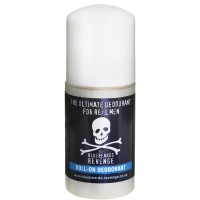 The antiperspirant is good, stops sweat and smell like the rest, I've not got much else to say.
I really enjoy having a set of grooming products that works well together without picking and mixing different brands trying to find scents that work well together.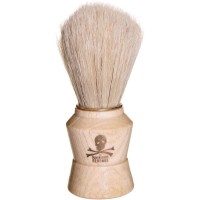 My only slight criticism is of the doubloon brush, while this brush is perfectly adequate with a great back bone that lathers well, it is a bit small. I have now relegated this to my travel wash bag, but even if you are used to using a much bigger brush, it still works well and I found it behaved much better than I expected it to given its small size. If you aren't used to a bristle brush, be warned: the first few times you use one it will smell like road kill, but this wears off (this is the same with all bristle brushes). And more to the point why are you sniffing your shaving brush?!
This set will make a great present for any guy who has a decent beard. (even if you buy it for yourself, you know you deserve a present)
I will definitely be buying more of these in the future when my current supply runs out.
The girlfriend says: I thought it would look weird to have products with skull and crossbones next to my rubber duck, but it is a quirky juxtaposition.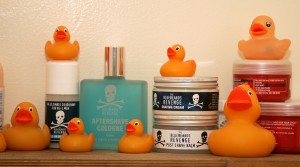 For more information on The BlueBeards Revenge range head over to www.bluebeards-revenge.co.uk
To purchase these fantastic products may I suggest www.shaving-shack.com or any other shaving requirements.
One last thing, Bluebeards Revenge support Orchid in their fight against male testicular cancer and we think its a rather worthy cause too so if you get a minute please check out their site www.orchid-cancer.org.uk