This hair and body wash is described as soap, paraben and sulphate free. Of all of these the paraben is an important consideration for me as there is a potential link between this group of chemicals and some cancers. This product is also petrochemical free, organic and vegan. So that should keep the latent hippy in all of us happy.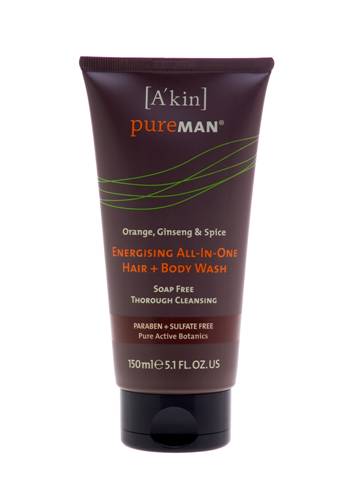 That's the science done! Onto the scent. This body wash reminds me of the stereotypical smells of Christmas with the main note being of orange and a slightly more subdued, but still very evident spice. These spices are naturally derived from: ginseng, ginger, cardamom, and clove. When I have an early start I need to be up around 5:30 am and this is a spicy slap in the face to get me ready for the day. I love the spice and I love how it seems to fill the shower with its aroma.
Another group that this is great is for is those who do water sports as it is a great contrast to the salty smell you get after being on the water for a day. I'll now pack it whenever I go scuba diving (or just to visit the beach)
The scent doesn't linger after using this product, which I prefer as this distinctive smell would interfere with any aftershave I would use.
The obligatory girlfriend comment: I'd like to have mentioned that it reminds me of Christmas, but as he's already said that all I say is: "the holidays are coming, the holidays are coming…". But in a mulled wine kind of memory and not a sugar based soft drink!
Available now from Holland and Barrett, and or www.lookfantastic.com    from £7.90