When I was younger we had an old Breville Sandwich toaster which produced amazing sealed toasted cheese sandwiches that were perfect comfort food and quick and easy to prepare. What wasn't so quick and easy though was the mess made when cheese melted from all sides of the toaster!
Now I admit on reflection I made the mistake of putting too much cheese into my sandwiches but it was still a pain to clean, so when I received this new up to date version of the classic Breville toaster I was excited but not so excited at the thought of having to clean it!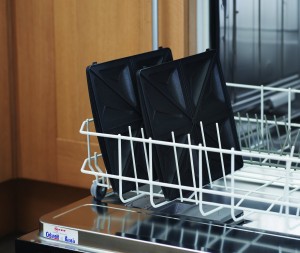 The awesome thing about this newer model is the removal dishwasher friendly plates, once you are done toasting just unclip the plates, give them a wipe and throw them in the dishwasher DONE!
So I don't need to tell you how awesome the sandwiches are this toaster makes I'm sure you will know, but if you don't trust me, if you like Sandwiches invest in a Breville you will be amazed!
How
Making the toastie is pretty simple, butter the outside of the bread, put your fillings inside then stick them in the toaster.
Butter Alternative
Don't get me wrong butter does add something taste wise to the sandwich but if you want a bit of a healthier alternative trying buying one of those healthy spray cooking oils and spray the cooking places instead of buttering the bread, I found it works just as well as the butter.
The Cheese Issue
Over the last few weeks I have over and over again made that classic mistake of putting too much cheese in my sandwich ( Resulting in the above mentioned cheese leakage ) now let me save you some time (and probably cheese!) go to the supermarket and buy a pack of that pre-sliced cheese (or if you are a good slicer just cut a square around about that size and thickness) and you will have the perfect amount of cheese with no leakage.
Fillings ?
You would be surprised how many great fillings work in the Breville, my go to is cheese and ham, a classic because it works and so comforting.
But here's a few other suggestions that I've tried:
Brie and Bacon
Baked beans and Cheese (one heaped teaspoon of beans per triangle to avoid leakage)
Tuna mayo and Cheese
Egg – It may sound wrong but it works, just push the bread down a bit into the triangles then crack a egg trying to spread the yoke between the two triangles, toast for 4-5mins and you have a toasted egg sandwich!
Or if you want to get really eggie check out what this guy who made a omelette in his sandwich toaster :

The four slice version (it does come in two slice but trust me two isn't enough!) is Available in Argos and Amazon with a RRP of £44.99