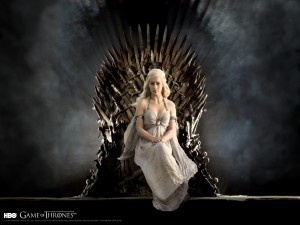 For those of you that don't know ( you must have been living under a rock ) Game of Thrones is an American fantasy drama television series created for HBO by David Benioff and D. B. Weiss. It is an adaptation of A Song of Ice and Fire, George R. R. Martin's series of fantasy novels, the first of which is titled A Game of Thrones.
The HBO TV series is just about to start its fourth season and last week I was invited to a screening of the newly released third season blu ray where we were treated to a making of documentary of the Red Wedding ( a key scene from the third season).
I have always been impressed with the production quality of Game of Thrones and sometimes very graphic and controversial scenes the producers aren't frightened to tackle but after watching this behind the scenes documentary seeing the detail gone into things and hearing how the actors prepared for the challenges faced Im even more impressed in fact Ive just ordered the Blu ray to be able to watch it all over again!
As you may know not all Blu Rays are exactly packed with extras but if you are a Game of Thrones fan or new to the show and want to catch up before season four I can highly recommend you go out and buy the blu ray set, not only does it look stunning on screen you will be entertained for hours with all the fantastic extras included in the sets.
Available now from Amazon with an exclusive bonus disc of even more features from the link below