Football, for many, is an obsession. The countless miles clocked up following teams around the country, the endless cash spent, the hair-tearing tension and finger nail-biting anxiety won't matter at all should your team get that all important victory.
The 2013 – 2014 football season is now well underway. This year, leading tyre manufacturer, Hankook Tire continues as an Official Sponsor of the UEFA Europa League.
Hankook's official partnership will culminate in the grand UEL Final; set to take place in Turin, Italy next May. The two lucky teams that are skilful enough to manoeuvre their way to the Final will no doubt become timeless heroes amongst their fans.
Hankook Tire is one of the world's largest and fastest growing tyre manufacturers for innovative, high quality and high-performance radial tyres for passenger cars, trucks, SUVs and buses as well as motorsports (circuit racing / rallies). Hankook's products can be found fitted to many of the world's leading premium car manufacturers including Audi, BMW and Mercedes-Benz.
For more information visit http://www.hankooktyres.co.uk
To celebrate their sponsorship of the UEFA Europa League, Hankook are giving away two £50 vouchers for a leading sports store so you can treat yourself to a selection of football goodies.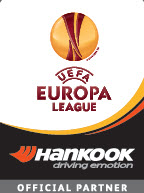 All you have to do is answer this question:
Which country does the grand Final of the UEFA Europa League take place?
A) Italy
B) Canada
C) Fiji
emails yours answer to enterthecomp@gmail.com
two winners will be selected randomly from all correct answers on the 1st March