Stella Artois the rather lovely Belgian beer have launched The Chalice Symphony – a year-long collaboration between craftsman Andy Cavatorta and indie rock band Cold War Kids exploring the beautiful sounds of the signature Stella Artois Chalice.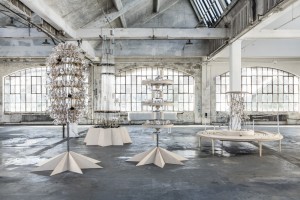 Inspired by his previous work with singer-songwriter, multi-instrumentalist Björk – where music was created by harnessing forces of nature with new technology – Andy Cavatorta has crafted a quartet of instruments inspired by elements of Stella Artois' signature glassware. These include:
• The Hive which takes its name from the instrument's unique shape and sound, resembling a soft xylophone.
• The Pyrophone which adds depth to the symphony with a deep whistling sound, like a boat horn.
• The Star Harp which uses robotics to play a harp-like sound using strings and the Stella Artois Chalice. "Stella" means "star" in Latin.
• The Violina which leverages a higher-pitched string sound, resembling a violin for the symphony.
This month, iconic rock band Cold War Kids have debuted the instruments in a new single called "A Million Eyes", a soulful ballad which incorporates the unique sounds from the Stella Artois Chalice.
The music video and story behind the concept and craftsmanship have been captured in a stunning series of short films which are available to watch at www.youtube.com/user/stellaartoisuk. The "A Million Eyes" track is available for download at www.stellaartois.com/en/global/coldwarkids, iTunes and Spotify.
The results are pretty amazing, I was already a fan of Cold War Kids but I;m truly impressed by what they have achieved with Andy's fantastic instruments.
Visit www.stellaartois.com for more information and additional content on the Chalice Symphony.