This product is described as useful for pretty much any reason, from moisturising the skin to being therapeutic to acne and eczema sufferers. I received a 30ml bottle of this oil. The bottle is nicely shaped with a pump top to dispense a small amount with each press. I prefer this, as all too often with these products you struggle to get any, then most of the bottle ends up in your hand (just like ketchup).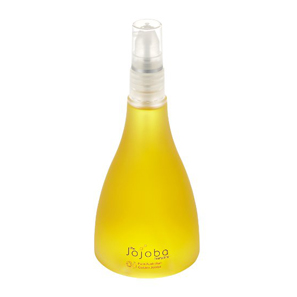 When I was sent this to try I was told that it is a good pre-shave oil. As some of you may have read in an earlier review I've been converted to using oils under a lather to reduce irritation whilst shaving.
The most important thing that I find when testing these products is to isolate them in a routine so that I can be objective about the performance. So I soaked my brush and then put a couple of squirts of oil in my hand. I rubbed this into my wet stubble and then lathered as per usual. This oil didn't perform quite as well as dedicated shaving oil, but for a multipurpose product is performed much better than my expectation. That said, given the benefits to people with eczema and acne I can see this being a great product to help reduce shaving irritation without making these skin complaints worse.
I also used it as post shave oil. Jojoba oil is very similar to the sebum that the skin produces naturally. This means that is can moisturise without causing irritation. I found it a good post shave product used this way. The lack of scent means I can twin it with whatever scent I want without a clash. It is reported to reduce ingrown hairs, I've not had it long enough to find this out, but have no reason to doubt it and it will be the icing on the cake.
In conclusion, this is a great product to have in the bathroom, it works both before and after shaving and works well used in both situations. I'd especially recommend to people who struggle with sensitivity to normal shaving products.
Prices start from 12.99 for 30ml for stockists please visit www.oneway2naturalhealth.com