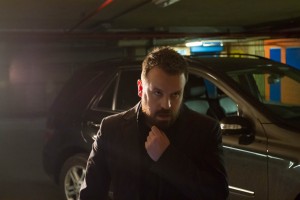 Today April 7th, British action thriller 'He Who Dares' arrives on Blu-ray and DVD from STUDIOCANAL, telling the story of a group of ruthless terrorists who kidnap the Prime Minister's daughter, fortifying themselves in an underground car park rigged with explosives. Sending in a crack SAS team, they must take back the building one level at a time. Directed by Paul Tanter (The Rise and Fall of a White Collar Hooligan), He Who Dares is a thrilling ride that harks back to British action at its best; at times I found myself thinking "would that really happen?" but then as Paul says himself in the inteveiw below the film isn't a documentary, sometimes we need to remind ourselves its ok just to enjoy something! anyway last week I had a brief chat with Paul heres what he had to say:
Where did the idea for 'He Who Dares' come from?
A few years ago, myself and actor/producer Simon Phillips were shooting a scene for our police drama "Riot" (initially released as G.B.H). We were shooting in the bottom level of a 15 storey underground car park and, for some reason, we were talking about hostage films such as Die Hard, which is one of my favourite films, and Simon remarked that the car park we were in would actually be a perfect place for kidnappers to defend themselves as there's only one way in – it's not like a building where you could land a helicopter on the roof or go in through windows. We started working on a script and around the time we were finishing it, "The Raid" and "Dredd" both came out, showing there was a huge demand for that kind of action film – storming the castle, so to speak.
Your new film 'He Who Dares' shows the SAS as less of the professional ruthless outfit most tv and film portray them as and more amateurish to the point of embarrassment (mostly) , do you think the film will upset them at all?
I disagree. I think it shows them facing a near impossible situation and dealing with it the best way they can whilst cut off from the outside, outmanned and outgunned. I think anyone watching it, be they soldier or civilian, will see it as entertainment, not a documentary.
Do you feel you made the film you set out to or would it have been a different movie if there was a bigger budget?
All films would be a different movie if they had a bigger budget. We make all of our films on tight budgets and tight time constraints but always punch above our weight because we're good at ensuring maximum production value. Every filmmaker would like a bit more time and a bit more money but we made an exciting action film and I'm extremely happy with the end result.
Is it difficult securing distribution for British crime films? It feels to me there's less stigma attached to the straight to DVD film that there once was.

The majority of films released in the UK are straight to Home Entertainment (DVD/Blu-ray/iTunes/Sky Box Office/Virgin On Demand etc). Anyone who thinks "straight to DVD" is a bad thing usually has no idea how film distribution works and has probably never made a film that's been distributed. There's always a market for good stories performed by good actors, whether it's crime or other. Obviously it helps if you have a track record of making stuff that people want to watch – the distributors are more likely to be interested in what you're making next.
You tend to work with a lot of the same actors on your projects, what's the reasoning behind this?
Because they're good and I like them! When you work with people often, you develop a short hand with them that means you can hit the ground running with them. I'm lucky to have worked with some great actors who have become good friends and come back and do stuff with us often, including Simon, Rita Ramnani, Nick Nevern, Peter Barrett, Tom Knight, Rebecca Ferdinando, Billy Murray, Lorraine Stanley and Peter Woodward. It's nice to reward loyalty, too.
Simon Philips I think especially is fantastic in everything I've seen him in, I'm shocked he's not more a household name, how did you start working together?
We first worked together on "Jack Says", many years ago. The film was in preproduction but needed a fresh rewrite and Rita, who was attached to the film to play Erin, recommended me to Simon for the job. Rita and I went to university together several years before and she remembered me from my writing things for the drama crowd. I took on the job and the producers were happy with the result, so I wrote the next film in the series, "Jack Said" as well as the accompanying graphic novels, then the next one, "Jack Falls", which I got to co-direct.

You have form for making sequels' of your past work, do you forsee a 'He Who Dares' sequel? (actually maybe a prequel!)

I do like sequels and trilogies – we did three Jack films and White Collar Hooligan 3 will be out this summer. We've actually already completed filming on the sequel, which will be out later in the year. We were confident enough in He Who Dares to crack on and make the second before the first was released. Wouldn't rule out a third either!

I really Enjoyed White Collar Hooligan 1 and 2, when can we expect a 3?
Thank you very much. I'm pleased with the reaction to both films. I don't know the exact date yet but it will be out this summer sometime around the World Cup. A lot of the action takes place in Rio during the tournament, so I'm sure it will be timed around that.

I see you are working on a film 'Rise of The Krays' can you tell us more about that?
It's a period biopic of Ronnie and Reggie Kray and their rise to power. Simon Phillips and Billy Murray are producing – it's great having Billy on board as he knew the twins back in their day and he's full of stories about them and information about their characters and background. It's my first period film, if you don't count "The Fall of The Essex Boys", which was set in 1995. I'm very excited about it and can't wait to start shooting!
Thank you for your time
Thank you too!