The Android operating system only came out a few years ago but it seems like its slowly taking over the world, Android is in mobiles , tablets, TVs, media boxes and lots of other things too, well now Gigaset have brought out their home DECT phone that uses the well known software.
So whats it like? Well Ive been using the Gigaset SL930A for a few weeks now and well its basically exactly what you think it would be, it's a touch screen smart phone connected to your land line.
Smart Features
At first I did question how much I would actually use the smart phone features of the Gigaset, afterall my mobile phone is always close to hand isn't it? Well the answer surprisingly is no! a lot of the time its sitting charging somewhere or left somewhere around the house, the beauty of the Gigaset is you know where it will be in its in docking station and when you want to google a actor in Game of Thrones or something its right there near my armchair ready to be used.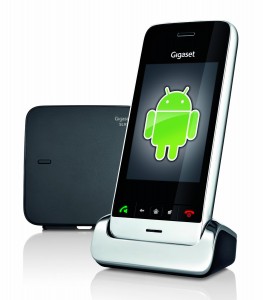 The big plus though is when I want to order a takeaway or call somewhere I don't have the number for, so I google say Dominos Pizza Ealing … not only does it give me the number but with one click I'm calling my order in! very handy to have in a land line.
The other main thing I use the Gigaset SL930A for is Skype, with friends in the USA and Spain I can leave the app on the phone and they can call me anytime they want , I cant do the same on my smartphone as the Skype app would drain my phones battery, with the SL930A this isn't a worry, I really use this feature the most.
Looks
The phone looks absolutely stunning, very high end, with its chromed finish on both the handset and dock I get many enquires about it from visitors, most saying how cool it looks.
So all in all I would give the Gigaset SL930A a big thumbs up, it looks great, works well and is an asset to my household.
Head over to Amazon and pick yours up now !