Im a big fan of cider especially in the summer there's nothing more refreshing, but Ive never really ventured away from the traditional Apple cider despite the trend in recent years for lots of new cider flavours out on the market.
So when I was sent a few bottles of the new Blackcurrant cider from Merrydown a couple of weeks ago I wasn't sure what to expect really, but surprisingly the Blackcurrant really works, its just as refreshing as the apple variety and just a nice change really. With a hot spell supposedly coming up this weekend I would highly recommend you stock up on some to refresh under the sun.
While on the subject of cider Merrydown have supplied us with a few recipes utilizing some cider goodness
PORK, APPLE & CHEDDAR BURGERS WITH SPICED CIDER AND APPLE SALSA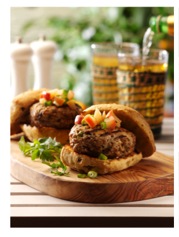 Tasty and full of apple and Merrydown cider flavours these easy to make burgers are perfect for a summer barbeque.
Serves: 4
Ingredients:
500g pork mince
1 Cox or Braeburn apple, peeled & grated
4 spring onions, finely chopped
1 egg, beaten
Fresh sage or parsley finely chopped
40g Cheddar cheese, cut into four even pieces
4 ciabatta or burger rolls
Spiced cider & apple salsa
3 Cox or Braeburn apples, cut into small cubes, not peeled
150ml Merrydown medium cider
1tbsp cider vinegar
½tsp ground cinnamon
2 spring onions, finely sliced
Method:
• Mix together the mince, grated apple, spring onions, beaten egg and herbs. Form into patties, placing a piece of cheese in the middle of each one. Place in the fridge for approx. 20 mins to firm up.
• Meanwhile, make the salsa. Place the cubed apples in a small saucepan with the cider, vinegar and cinnamon. Cook over a gentle heat until the apple has softened, add the finely chopped spring onions, cool.
• Barbeque or griddle the burgers for approx. 7-8 mins on each side until cooked through. Serve in the rolls topped with the salsa with a green salad and a glass of chilled Merrydown cider.
 
CHICKEN & PEPPER KEBABS WITH A CIDER GLAZE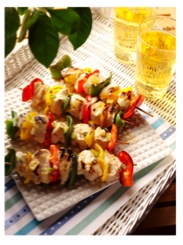 Perfect for summer entertaining, these delicious kebabs with their zesty cider glaze can be made ahead of time.
Serves: 4
Ingredients:
4 chicken breasts
3 peppers mixed colours, cubed
Cider glaze
2 cloves garlic, crushed
Grated zest and juice of 1 lemon
3tbsps clear honey
300ml Merrydown medium cider
3 spring onions, finely chopped
Method:
•First make the marinade by mixing the garlic, zest and juice of the lemon, honey and cider together.
•Cube the chicken, place in a bowl and spoon in 10tbsps of the marinade, leave for at least 1 hour covered in the fridge. Reserve the remaining marinade.
•Thread the chicken and peppers onto kebab sticks. Barbeque or griddle for 7-8 mins each side until cooked through, basting occasionally with the marinade.
•Whilst the kebabs are cooking heat the reserved marinade in a small pan, boil until reduced and syrupy, pour over the kebabs and serve with a green salad and new potatoes.
Look out for the great new 500ml bottles of your favourite Merrydown cider, now on sale at Sainsbury's, Tesco, Morrisons, ASDA and Booths.