On the 17th of May I had the pleasure of losing my cricket virginity; I went to see the NatWest T20 Blast – Lancashire v Worcestershire with my girlfriend alongside to explain what is going on. For those not familiar with this format of cricket it consists of 20 overs for each team. It is fairly relentless with no breaks for tea and cucumber sandwiches. Due to fact they only have 120 balls to get the score from there was very little evidence of defensive play and a lot of big hits.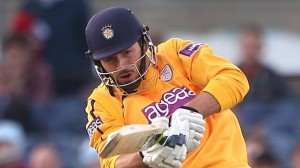 Rather than the boring and stuffy cricket we know, there is a more modern and fun twist, between most balls and certainly after every significant moment there were snippets of tunes played as you'd hear at an ice hockey or basketball match, my personal favourite being when one of the away batsmen was caught out, the PA system sprung to life with "Bye Bye Baby". This is clearly a sport that even though played by top flight sportsmen doesn't take itself too seriously.
My girlfriend did well at explaining the rules to me, but to help you keep track of what is going on there are many scoreboards which as well having the score, also popped up with player stats after a bowler / batsman change. Just like you'd have at home on the TV. It seemed less complicated than test cricket too.
Another modern twist to this sport is the 'Dance cam' like we have all seen on the American TV shows to encourage the spectators to get up and jig and liven things up during breaks in play. Before the match there were live bands and a fair ground, which means you can have a nice family day out or romantic date with your other half. Looking at the rest of the fixtures they are either on a Friday or Saturday evening and run for around 3 hours, this is deliberately to allow you to go after work or a day with the family and watch a complete match.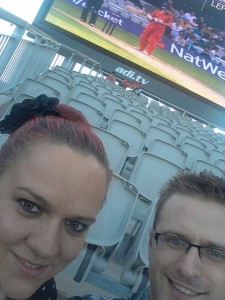 In summary: This is a great evening out whether you are a cricket fan or not. It's a good social evening with plenty to keep you excited. There is a great atmosphere, the only thing I feel is missing are cheerleaders, but that may be one step too far and some may say "it's just not cricket". I'm looking forward to going to another match through my choice and not just because my girlfriend wants me to.
Girlfriend comment: Happy he now understands the rules of cricket, role on the Ashes, he might actually agree to watch it with me next year. Now to nag him till he gets me more tickets for the final of the NatWest T20 Blast!
For more information and to purchase tickets for a NatWest T20 Blast game near you visit www.ecb.co.uk/natwestt20blast