Boursin the French soft cheese brand have teamed up with chef Marcus Bean to come up with a few dishes using Boursin to add some flavour, I thought I would give his burger recipe here Marcus explains it much better than I can!
I'm a bit hit and miss with recipes, they often go disastrously wrong with me but I was quite suprised how well this one turned out.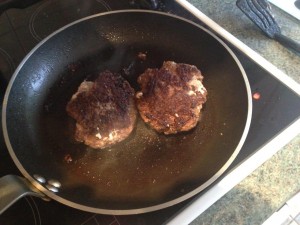 As you can see the Cheese hasn't leaked out of the burger,having tried to put cheese in a burger before I have found this always happens so I was already quite happy with the Boursin, but next was taste and it was amazing! well done Mr Bean! the mushrooms and cheese work so well with the beef and its quite possibly the best burger Ive ever had, let alone made myself (Ive eaten alot of burgers!)
Try this , and try this now! you will impress
Worth noting is the cheese comes in individual little foil wrapped portions which I found much easier to deal with and clean in the fridge.
If you are interested here some links to a few more dishea Marcus has come up with using Boursin :
• Chicken Supreme Stuffed with Fresh Figs and Boursin Garlic & Herb, Wrapped in Prosciutto Ham
• Rump Of Lamb With Garlic & Herb, Mint and Caper Crust, Sauté Potatoes & Wilted Spinach
• Smoked Salmon & Tiger Prawn Linguine with a Boursin Garlic & Herb Sauce
• Garlic & Herb Gnocchi with Tomato & Vegetable Ratatouille
• Rib eye steak with Boursin Black Pepper portion, served with spinach and pine nut rice
Boursin can be picked up in most supermarkets and comes in several flavours including my favorite Garlic