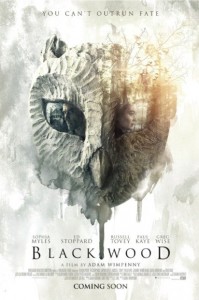 This week sees the release of 'Blackwood' a classic English ghost story with a bit of an update. With a very strong cast including Russell Tovey Ed Stoppard and Paul Kaye Blackwood prooves to be a very enjoyable take on the Ghost Story including much that wasnt expected.
Last week I caught up with Blackwood director Adam Wimpenny and asked him a few questions about Blackwood:
If you had to summarize the film in one line what would it be?
Blackwood is a modern take on the classic English ghost story, with a twist.
What drew you to make Blackwood as your first feature film ?
I always wanted to make a ghost story, as a kid I grew up in a big, old, drafty farm-house on the Yorkshire moors so I think it always got my over-active imagination thinking there were things living in the attic. I'm a huge fan of suspense and tension movies and they're a lot of fun to direct, so Blackwood seemed like a perfect first film.
How did the script translate to film? Were there difficult aspects to capture?
There were certainly a number of ambitious aspect to the script. Joe the writer had put into the script a a number of scenes that required some dangerous stunts and special effects including huge storm scene. As a director you get excited by these things on the page but on the day of shooting you wonder how on earth you're going to pull these things off, especially when you're working to a tight budget. I remember standing around in a freezing cold forrest with all these poor actors being dowsed in ice cold water for hours on end. I had to make a lot of apologies at the end of that filming day!
Blackwood has a very talented cast, you have worked with Russel Tovey and Paul Kaye before, were they obvious choices to you?
I'd directed Paul in a TV comedy series called Strutter and I'd made a short film with Russell called ROAR. Both of them had been fantastic to work with and I was really keen to get them involved with Blackwood. In the script the antagonists are Jack and Patrick, a local groundsman and a priest, and I thought they'd make a great double act together. I was really drawn to the idea of counter casting two actors known mostly for their comedy as these dark, sinister characters and they really deliver.
The strongest part of the film for me is the final 30mins, things unravel, they aren't as they seemed, was that part of the story difficult to tell without giving things away in the lead up to it?
We really wanted to make a film that rewarded a repeat viewing. All the films on my DVD shelf are movies that have intricate twisty-turny plotting. There's something satisfying about playing with the audiences perception and point of view in a movie, and as long as you don't cheat and play by the rules then I think the audience enjoys being led down the garden path by film makers. However, trying to make sure the story is water tight and everything stacks up always involves a lot of head scratching and when you're shooting the film all out of sequence as you frequently do in film making, it can become a real headache!
Was it difficult to get a film like Blackwood a cinema release especially in the summer up against lots of US blockbusters ?
Releasing a film is never easy, there's a lot of films out there and it's difficult to get heard above the noise of the big ten pole block busters. However, people who have seen the film have been very supportive and some of the major cinema chains have taken us under wing. We've resorted to using some novel marketing strategies too. Joe the writer is one of the worlds leading street artists and he created a huge piece of glowing 3D street art that was photographed in Canary Wharf last week to promote the film. The piece has gone viral and captured peoples imaginations so you have to do some left field thinking to get the people
talking about it.
Would you say the British film industry is in a good place at the moment?
I certainly think there's a great deal of talent here and there are many opportunities for film makers although I wish there was more UK money available to support new emerging UK talent. A great number of Hollywood projects are coming to the UK to use our studios, cast and crew so we're doing something right but I'd love to see us making more ambitious genre movies that can appeal to an international audience whilst retaining our British sensibilities.
You have previously worked on a lot of TV, The Real Hustle stands out for me as a bit of a classic and I imagine was a lot of fun to work on, did things ever go wrong? Were the 'Hustlers' rumbled much?

That was a great show to work on. Every day was a rush as it was always touch-and-go as to whether we'd get busted. Quite often I'd spend half a day setting up a location with hidden cameras and rehearsing with Alex, Paul and Jess but when it came to pulling off the scam all I could do was go hide in my covert van, sit back and watch things unfold. It felt like being in some MI6 sting operation. Amazingly I can't remember one time we got busted which goes to show how easily people can be seduced with a smile and a bit of charm. The biggest problem became other people recognising us during a sting. Often you'd here some kids yelling 'Oi! Real hustle!!' which didn't help. The guys started waring comedy moustaches for a few weeks but they looked so silly they didn't last.
Whats next for you, any more films in the pipeline?
Working with the same team again I'm in the process of setting up our next film. It's a conspiracy thriller and we're talking about shooting it in Singapore. It's a great script with lots of atmosphere and suspense again so if it goes the distance it'll be a fantastic project to direct.
Thank you for your time and good luck with Blackwood
Blackwood is out in cinemas now and I highly recommended you check it out.