I was sent The Bluebeards Revenge Brushless Shaving Solution just as I was about to spend 2 weeks living in a hotel with work, so the timing was perfect. However much I enjoy traditional shaving, one thing I don't like is trying to pack all of the associated paraphernalia. This product means you can get away without the brush, which I find is the hardest thing to pack safely (with the exception of glass bottles).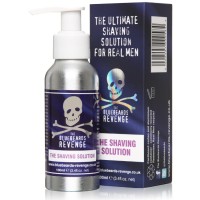 When I first used it I didn't have a very wet face and found it less than impressive. The next time I made sure my face was very wet before face lathering this thick white gel, still without a brush. This resulted in a relatively irritation free shave with plenty of lubrication for the razor.
After a long weekend of not shaving I tried it on long stubble, this product works well here. Although it seems to encourage the razor to clog, with a double edged razor this isn't a problem, I just unscrew the head a turn and sluice under the tap to clear.
The best shave I got was from using this in conjunction with a generous helping of the Bluebeards revenge pre shave oil. This shave if done with a wet face was nearly as good as a brushed lather shave.
There isn't much to say about the scent beyond that it still has the traditional barber shop smell that is common across the range as I've discussed on previous reviews. This is a great subtle scent that I still love.
I'm not sure this will be in my daily rotation as I've already got the brush and other brush on creams, but I will most certainly keep it for travel use. It would also suit new comers to the brand who don't have a brush. That isn't to say it doesn't work well, but to say I've found that I really enjoy all of the preparation that a normal cream requires.
The Bluebeards Revenge range is available from :
http://www.bluebeards-revenge.co.uk
or