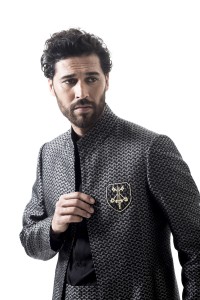 In the build up to London Fashion Week, Premium Belgium beer brand, Affligem, has delved into its rich heritage by collaborating with renowned Savile Row tailor, Patrick Grant, to reinterpret the traditional attire worn by the knights who founded the Affligem back in 1074.
The bespoke suit aims to combine the elegance, sophistication and craft of Affligem, while encapsulating the historical background of its 11th century founding fathers into a suit fit for 21st century gentlemen. In order to keep the suit in accordance with knights' traditions, the collection was created under close consultation with Oxford University historian, Dr Dominic Selwood, who specialises in the era.
The Affligem story began early in the 11th century. After years of gruelling battle, six weary knights in search of a sincere and peaceful life returned home to Affligem, Belgium. Despite their allegiance to the Roman Emperor, they dreamt of exchanging their armour for monks' robes, of dedicating their lives to the poor and of building a great abbey. Ten years later, it was now six monks who looked upon their finished abbey and began to brew Affligem beer.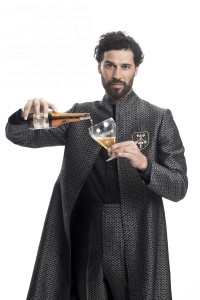 Encapsulating Affligem's heritage and staying true to the historic accuracy of the period, Patrick Grant has crafted an imposing soldierly-styled 2-piece suit for his creation. With an elongated tailored jacked cut just above the knee and high stand collar to replicate the traditional style worn, the outfit is finished off with a high whole-cut waist trouser with cavalry cut hem. In keeping with the 11th century custom, the suit has been woven with a chainmail design jacquard in black wool, with silver and grey silks.
Savile Row designer, Patrick Grant said: "I am fortunate to get to work on some genuinely challenging projects. Through our collections at E. Tautz we've explored well over 400 years of English clothing history but this project for Affligem took us back a further six centuries. It was fascinating to think about the function and design of the costumes of men in the 11th century and to try to meld them with the Savile Row techniques and fabrics, and interpret them for a contemporary audience. Our project with Affligem has been a pleasure to work on from start to finish".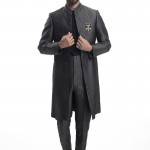 Affligem is available in three distinctive guises, Affligem offers a selection of crafted tastes to satisfy the more discerning palate. Blonde (ABV 6.8%) is an eminently drinkable classic clear ale, whilst Double (ABV 6.8%) is a more complex, richer affair, steeped in dark malt overtones. Triple (ABV 9%) is the pride of the abbey, with a distinctive bitterness and gratifying strength for those who seek something beyond their traditional beer portfolio.
Cheers!