To celebrate the forthcoming release of the outrageous comedy Dirty Grandpa, in UK cinemas 29th January, with previews Monday 25th January, Gentlemen's Goods is giving 3 readers the chance to win a merchandise pack including a Dirty Grandpa hip flask, a branded bag, hat and horse mask!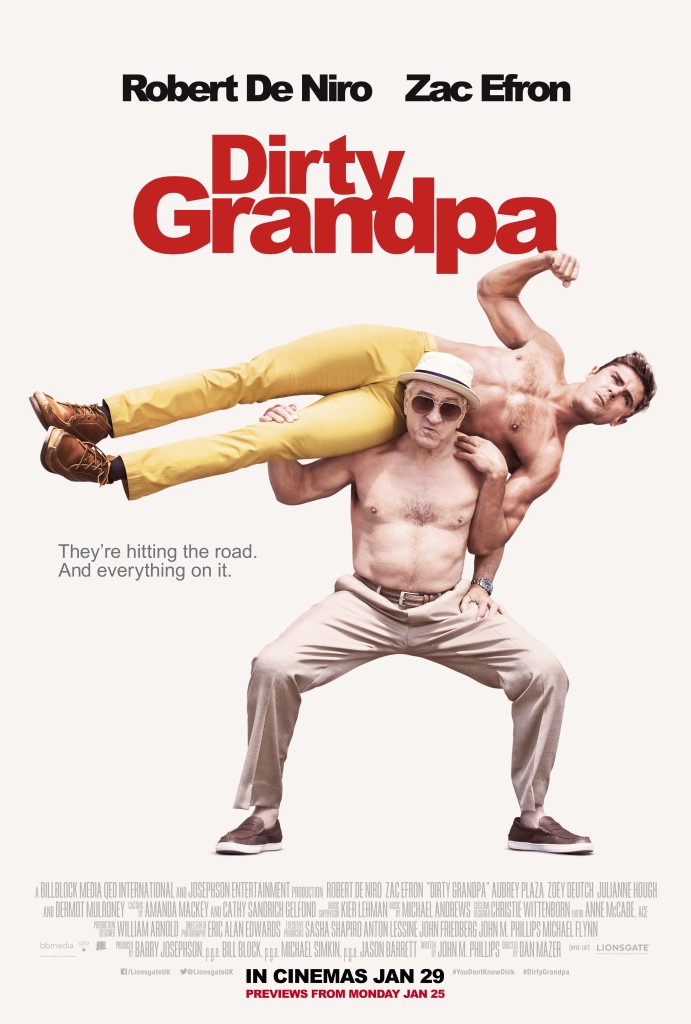 About DIRTY GRANDPA:
Jason Kelly [Zac Efron] is one week away from marrying his boss's uber-controlling daughter, putting him on the fast track for a partnership at the law firm. However, when the straight-laced Jason is tricked into driving his foul-mouthed grandfather, Dick [Robert De Niro], to Daytona for spring break, his pending nuptials are suddenly in jeopardy. Between riotous frat parties, bar fights, and an epic night of karaoke, Dick is on a quest to live his life to the fullest and bring Jason along for the ride. Ultimately, on the wildest journey of their lives, "dirty" Grandpa and his uptight grandson discover they can learn from one another and form the bond they never had.
Cast: Robert De Niro, Zac Efron, Aubrey Plaza, Zoey Deutch, Julianne Hough, Jason Mantzoukas, Danny Glover, Adam Pally and Dermot Mulroney
Directed by: Dan Mazer
Produced by: Barry Josephson, Bill Block, Michael Simkin and Jason Barrett
Written by: John Phillips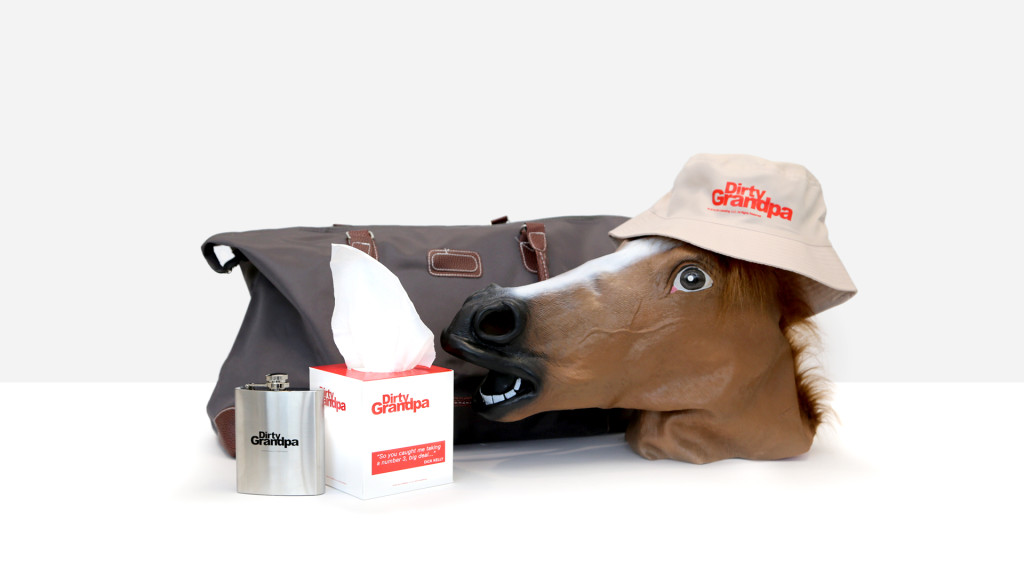 PRIZE:
For your chance to win a Dirty Grandpa merchandise pack, all you need to do is answer the following question correctly and email enterthecomp@gmail.com, a winner will be picked on the films release date 29th January 2016:
Dick in Dirty Grandpa is played by which actor?
A. Robert De Niro
B. Zac Efron
C. Jason Mantzoukas
DIRTY GRANDPA is released in UK cinemas on the 29th January, with previews Monday 25th January
:
Terms and Conditions:
Terms and Conditions
• Competition closes on 29th January 2016 at [INSERT TIME] GMT.
• The Promoter is Lions Gate International (UK) Limited of 5th Floor, 45 Mortimer Street, London, W1W 8HJ (Company No. 08936180). The competition is run in association with Gentlemen's Goods.
• Entrants must be aged 18 or over when entering the competition and resident in the UK. Proof of age and residence will be required to receive the prize.
• This competition is not open to employees of Lions Gate International (UK) Limited or Gentlemen's Goods or associated agents of those companies or anyone else professionally connected with this competition.
• Entrants must have access to the internet in order to enter the competition.
• To enter the competition, entrants must submit the correct answer to the multiple choice question above by emailing enterthecomp@gmail.com
• Only one entry per person will be considered.
• Proof of submission shall not be proof of receipt. Entries that are incomplete, incorrectly filled in, illegal, illegible, in the incorrect format or fraudulent or those not received in accordance with these Terms and Conditions shall be deemed invalid and not accepted. The Promoter does not accept any responsibility for technical failures which prevent an entrant from submitting an entry and no responsibility will be accepted by the Promoter for entries lost, corrupted or delayed in transmission.
• Prize for each winner is ONE (1) Dirty Grandpa merchandise pack.
• The Promoter has the right to substitute each item in the prize with an item of equivalent rating and audience in its sole discretion.
• The Promoter reserves the right in exceptional circumstances to vary, amend or withdraw this competition on reasonable notice.
• There is no cash or other alternative to the prize stated and the prize is not transferable and no part of the prize may be substituted for other benefits, items or additions.
• The prize may not be sold, offered for sale or used in connection with any other competition or promotion by the prize winners.
• Prize winners will be chosen at random and contacted by a representative from Gentlemen's Goods by email/telephone provided on entry within 24 hours of the competition closing date.
• In order to receive the prize, the prize winners must respond within 24 hours of notification.
• If a prize winner fails to respond within 24 hours of notification, the prize will be forfeited and an alternative prize winner(s) will be contacted.
• By entering the competition, the prize winners give consent for their name, contact number and address to be passed to a third party provider for delivery of the prize. Save for the exception above, the Promoter will not pass any personal data to any third party unless required to do so by law or an appropriate regulatory authority.
• The Promoter will not be liable for any delay or failure to deliver the prize caused by the postal/delivery service.
• The Promoter's decision is final and binding on the entrants. No correspondence will be entered into by the Promoter or those partnered with this competition.
• By entering the competition, entrants are sending their personal information to the Promoter who will at all times process an entrant's personal data in accordance with the UK Data Protection Act 1998 and applicable laws.
• To the fullest extent permitted by applicable law, the Promoter assumes no liability for any claim, loss or damage arising (whether directly or indirectly).
• Entry into the competition constitutes acceptance of these Terms and Conditions.
• The names of the prize winners will be announced on the Gentlemen's Goods site and may be obtained for one month after the competition close date by sending a signed handwritten request along with a stamped self-addressed envelope to the Marketing Team, Lionsgate, 5th Floor, 45 Mortimer Street, London W1W 8HJ and marked with the name 'DIRTY GRANDPA Merchandise Giveaway Winners'.
• These Terms and Conditions will be governed and construed in accordance with the laws of England and Wales and is subject to the exclusive jurisdiction of the English courts.